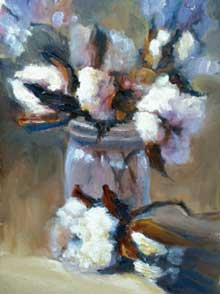 The Society of Bluffton Artists presents "From Cotton to Cows," a compilation of original oil paintings by Spring Island artist Kimberly Bisger, on display now through November 30.
Kimberly is an emerging artist whose work in oils has already gained regional prominence in South Carolina's Lowcountry. Her area of artistic concentration is centered on portraiture of animals, and she also recreates landscapes from the Lowcountry as well as from her travels abroad. Kimberly's love of the Lowcountry is showcased in this featured artist exhibit. Her artistic concentration is capturing the personality of animals and mood of landscapes with color and light. "I wanted this show to capture the character of the region, from the softness of a cow's nose, to the nostalgia of a roadside farm stand to the captivating color of the marsh landscape."
Kimberly's collectors and admirers praise her ability to evoke the personality of her animal subjects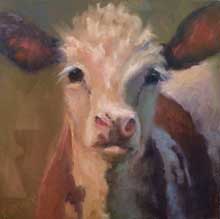 and how she is able to "capture how the animal views its environment." An historian who recently studied her oil painting of an Aiken Steeplechase scene wrote that "I have rarely seen, outside of museums, such an evocation of color, movement, and a tactile sense of the impressionistic feel of people and horses in motion, as I have in this work. It is like life on canvas." This is the sort of admiration her abilities evince among devotees of her work.
The public is invited to meet the artist at a reception from 3 – 5 pm, on Sunday, November 10, at the SOBA Gallery. Enjoy refreshments, the art of Kimberly Bisger, and the work of over 100 other member artists.
The gallery is located at the corner of Church and Calhoun Streets in Old Town Bluffton. Call 757-6586 or visit sobagallery.com for more information.