The Guild of Beaufort Galleries Hosts Annual Spring Art Walk
Once again Beaufort sails into Spring with the Guild's annual Art Walk.  Closely nestled in the downtown, eleven galleries will host a gala evening event on Saturday, March 27th from 5:00 until 7:30.  Each gallery will serve wine and refreshments designed to please the palate, as well as art to please the palette!  Chosen as one of the 100 Best Art Towns in America, it's no wonder that the Spring Art Walk draws visitors from across the country.
Beginning with the Four Winds Gallery at 709 Bay Street, the work of Casa Bacot will be featured.  Her vibrant watercolors reflect the instinctive yet highly trained color palette of the artist.  Well known and collected throughout Virginia and the eastern seaboard, Bacot is adept and skilled in two disparate styles between which she alternates as she explores themes and vision.  Each is represented in the selections for Saturday's Art Walk.  Her nearly abstract expressionism of paintings in these series is closely reminiscent of Matisse in composition and superb color creations.
Next door, the I. Pinckney Simons Gallery is presenting a beautiful collection of original handmade Gullah Dolls by its new artist, Barbara Geesey.  Gullah dolls date back to
the earliest time in the Carolina Lowcountry when they were considered a special gift made for a loved one.  Each doll is unique, reflecting the rich spiritual and emotional quality of the African American influence.  The dolls are handmade with beautiful rich colored fabrics of silk and cotton adorning their slender bodies.  Every doll in the collection has an authentic African name translated into English.
Bay St. Gallery will be introducing the work of Ashley Hefner, son of talented artist Lana Hefner. His oil paintings c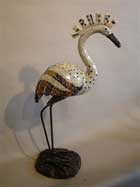 oncentrate on the rhythm of every day life and the natural beauty of the Lowcountry. Also featured are "Shore Birds", mosaic sculpture by Nancy Pollock whose work has been included in this year's Mosaic Arts International juried show in Chicago.
Across the street, The Gallery will bring Savannah-based painter David Ryden to the gallery for his first solo exhibit of his animal paintings from around the world.  Wielding palette knife and oils, David infuses texture and depth into his surfaces, bringing his subjects to life.  His paintings are simple, direct, colorful, playful and always inspiring.  Self taught, David enjoys the freedom to try anything and is always searching for that new and exciting subject matter.  His main goal as an artist is to make the viewer "feel enthused and excited".  One cannot help but smile when seeing his work.  He allows us to travel the world through his visuals, taking us to places most will never be able to experience.  Highly sought after and well collected, David's show is one not to be missed.
On the same side of Bay Street is The Craftseller, at 818 Bay Street. The Craftseller is well known as a contemporary gallery of American crafts, overflowing with color and creativity. The finely hand-woven wearable works of art by Carrol Kay are being highlighted.  Also featured are the work of over 200 American craft artists. These artists, from 32 different states, work in many mediums such as glass, wood, clay, and jewelry. Our jewelry shoppers will delight at our wall of unique, handcrafted earrings and designer jewelry, all made in the USA.  Always on hand to greet visitors is a whimsical copper frog by Donald Gehlkin, wearing the very latest earrings and accessories from The Craftseller.
Indigo Gallery's featured artist, Sandra Baggette, says, "When a friend presented me with so many flowers, I could not wait to start a large painting to include them all. Fresh flowers change color,shape and direction constantly as they open. This subtle action is the challenge I enjoy when I am painting flowers".
Rhett Gallery exhibits the work of four generations of family artists: James, Nancy, William Jr., and William Rhett III. Featured this month is the wildlife art of Bill Rhett, whose "Wild Turkeys" is his latest work.   An example of a true Carolina setting, it draws the viewer into a county road draped with oak limbs and Spanish Moss.  Emerging only at second glance are two gobblers about to tenatively cross into the sunlight.  Rhett Gallery also houses an extensive collection of antique prints, maps, nautical charts, original Audubons and Civil War art and antifacts.
Local artist, Mary Jane Martin, is the featured painter at Art & Soul. Her new series of paintings is called "Return to the Scene of the Crime – Revisiting Pattern, Color and Texture".  According to Mary Jane, it is "a new year, a new goal, a new way of looking at my surroundings.  Where I am, where I go, where I have been and what is happening in my world is what calls me to paint.  Observation of my surroundings is the first step.  (According to) Carl Jung, 'The creative mind plays with the objects it sees.'  I am constantly looking for objects to play with…figures, landscapes, still life, flowers, etc.  How I express the wonder of them is my play…using design and composition to pull in my audience.  What I paint is important, but not as important as the process of painting."
Just across the street is the Beaufort Art Association Gallery, housed in the historic Elliott House. The gallery represents more than 75 member artists, offering a wide selection of original works of art in ceramics, jewelry, photography, woodwork, prints and paintings.
LyBensons Gallery & Studio is at 711 Charles Street. The gallery features the exhibits, The Gullah/African Link and Out of Africa, featuring rare Shona Verdite sculptures by various artists from Zimbabwe, Africa, and original photographs by Gullah photographer and gallery owner Rev. Kennneth F. Hodges. Verdite, also known as "Africa's Green Gold," is a semiprecious stone over 3.5 million years old found only in Southern Africa.
Further down the block, at the Charles Street Gallery, two artists are featured.  Robert Steinmetz is exhibiting jewel-toned architectural watercolors.  From his Italian travels, he covers a broad range of subjects – architectural close-ups, streetscapes of narrow alleyways, public sculpture and candid figure studies of local residents. Steinmetz began painting full-time in 1990, shortly after retiring from a 27-year career as a practicing architect in Connecticut. In 2009 he was one of only nine artists in the United States elected to "Signature Member" status in the country's oldest art organization, the American Watercolor Society. His paintings are detailed and precise, in strong contrast to the more traditional use of the watercolor medium.  Native photographer Paul Keyserling snaps the shutter in a signature way that captures the odd angles of telephone lines and Piggly Wiggly signs, the distractions and drainings of this coastal environment, and the scathing, scarring beauty of life in the sun. His lensmanship stems from a career of SC Educational Television and film making. "All the while, still photography has been an ongoing distraction which drains exponentially more assets than it generates," Paul commented, but he wasn't counting the calming process of looking into the depths of his photographs to decipher the pristinely wordless stories he has captured.
For more information or questions, please call Nancy Rhett, (843) 521-1234.