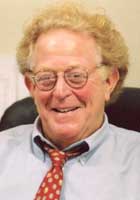 Books Sandwiched In, sponsored by Friends of the Beaufort County Library, returns for the 25th year on January 10, 2011, and continues every Monday through February 28, 2011.  The 8-week program will be held in a different place – USCB Performing Arts Center, 801 Carteret Street, Beaufort, and at a different time – noon to 1 p.m.  Co-Chairs Sherry Hirsch and Gretchen Blickle selected local personalities to review the 8 books that focus on Beaufort and South Carolina in recognition of the 300th anniversary of Beaufort.
The program is free and open to everyone.  Attendees are encouraged to bring their lunch or, as an alternative, purchase it from the Outtakes Café take-out table in the Performing Arts Center.  Doors open at 11:30 a.m.
Kicking off the season will be a presentation by Beaufort mayor Billy Keyserling, who will discuss Doctor K: A Personal Memoir, written by his father, the late Dr. Herbert Keyserling.
A native Beaufortonian, Billy Keyserling graduated from Brandeis University (BS, Magna Cum Laude) and Boston University (MS).  Prior to returning to Beaufort in 1989, Billy spent almost sixteen years working on and around Capitol Hill in Washington, DC: with administrative and legislative duties for members of the U.S. Congress, coordinating an international Human Rights initiative and as a public affairs consultant.
Keyserling served two terms in the S.C. House of Representatives where he was Vice Chair of the Joint Legislative Committee on Energy and Chairman of the Beaufort County Legislative Delegation.  After deciding to not seek a third term, Keyserling was elected to City Council in 2000 and served one term.
Billy is a licensed Real Estate Broker in SC and GA and has his series 22 and 63 Securities Licenses under Welton Street Investments, LLC.  His business focus is counseling clients on Tax Efficient Strategies for exiting highly appreciated real estate, Real Estate for Charity and Conservation Easements.
Billy was elected Mayor in November of 2008.
In Doctor K: A Personal Memoir,  Dr. Herbert Keyserling writes about his family's history and his own autobiography, describing life as a country doctor in Beaufort.
Upcoming Books Sandwiched In
January 17
Kathryn Wall: Canaan's Gate by Kathryn Wall
January 24
Scott Graber:  Yeomanry: Life on St. Helena Island by Thomas Jackson Woofter
January 31
Linda Tarr-Whelan: Against the Tide: One Woman's Political Struggle by Harriet Keyserling 
February 7
Mary Inabinett Mack:  Triangular Pegs by Heyward Inabinett
February 14
Fran Heyward Marscher: Remembering the Way it was at Beaufort, Sheldon and the Sea Islands by Fran Heyward Marscher
February 21
Fred S. Washington Jr.: The Water is Wide: A Memoir by Pat Conroy
February 28
W. Brantley Harvey Jr.: Strom: The Complicated Personal & Political Life of Strom Thurmond by Jack Bass and Marilyn Thompson