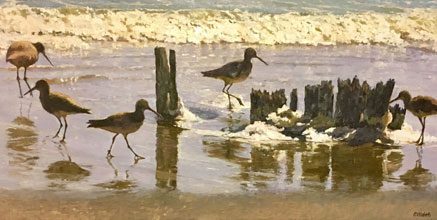 It's an exciting time for Beaufort Art Association. Over 15 years ago the Beaufort Art Association Gallery opened its doors on Port Republic Street, then moved to the EIlliott House on Bay Street, and finally the present storefront location at 913 Bay Street. To encourage, support and provide opportunities for the artistic growth of its members is the main purpose of BAA. With that in mind Beaufort Art Association Gallery welcomes all member artists to exhibit, whether an established, professional artist or just emerging. By doing this BAA contributes to the Beaufort community with aesthetic and educational experiences in the visual arts.
Three years ago the Board of Directors decided to take a pro-active approach to the Association's non-profit gallery. A section of the gallery was designated "Brick Wall Gallery at Beaufort Art Association" and was created for members who wanted to rent larger spaces within the Gallery to exhibit their work.
To mark the Brick Wall Gallery's three-year anniversary, BAA is having a party! To coincide with Downtown Beaufort's First Friday, BAA will host an open house and reception on August 3rd. The Brick Wall Gallery now has nine exhibiting members: wood Turner Frank Anson; fine art painters Priscilla Merrick Coleman, Linda Sheppard and Patricia Walsh; photographers Sandy Dimke, Gary Mullane and Karen M. Peluso; and mixed media artists Joan Templer and Arla Crumlick Wible. Each artist has a portion of the Brick Wall Gallery devoted to his/her art and will be on hand to discuss their work. Originals as well as prints and notecards by these artists are also available.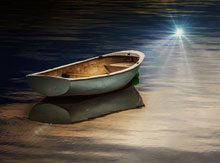 Another highlight of the event will be a book signing by Brick Wall artist Gary Mullane, who recently published Still Standing: The Beauty of Southern Trees. Gary will be on hand to personalize each book purchased and will donate a portion of the proceeds for tree preservation.
Beaufort Art Association Gallery has over 70 local artists exhibiting in their main gallery and boutique area. Besides wall art, the gallery also exhibits exquisitely crafted pottery, raku, fiber art and jewelry. Many of these artists will also be on hand on Friday evening August 3 to speak about their art.
The public is invited to attend this celebration on Friday, August 3 from 5 to 7:30 pm. Refreshments will be served. 913 Bay Street, Beaufort. www.beaufortartassociation.com
Above: "Once There Were Trees" by Patricia Walsh & "Morning on the Bay" by Sandy Dimke