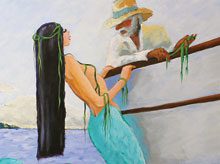 'Art That Makes You Smile' is exactly what you will see at Art League Gallery, Hilton Head'€™s Best Gallery 2017. The newest exhibition featuring art by John K. Crum will be on display November 7 to December 2. An artist'€™s reception will be held on November 9, from 5-7 pm. This event is free and open to the public.
John K. Crum'€™s artwork is best described as "coastal romanticism with whimsical yet surrealist styling." While Crum paints mainly what he imagines, the constant themes of romance, friendship, whimsy, and gentle surrealism are his favorite subjects. "I consider my painting
successful when the viewer stops, takes a closer look, and then smiles," stated Crum.
John K. Crum is a graduate of Ringling School of Art and Design with a degree in Fine and Graphic Arts. Crum has made a living as a graphic designer, illustrator, painter, and muralist. Having moved to Hilton Head in 2011, Crum credits his style to the local culture and "stunning landscapes of the Lowcountry."
Come see art that will brighten your day at Art League of Hilton Head's newest exhibit 'Art That Makes You Smile: The Gentle Surrealism of John K. Crum' from November 7 -€" December 2. Art League of Hilton Head Gallery is located mid-island, inside Arts Center of Coastal Carolina, 14 Shelter Cove Lane, Hilton Head Island. 843-681-5060, www.artleaguehhi.org.