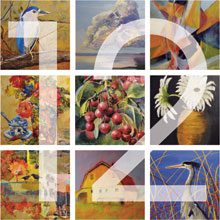 The Society of Bluffton Artists present its annual fall 12 x 12 Show. It's a unique, interesting and challenging member exhibition in which each member may submit two 12 x 12-inch canvases. Each 12 x 12 is priced the same, $120 — in time for holiday art shopping.
The art is the perfect size for groupings. It will fit in small spaces and is very easily shipped.
The 12 x 12 artwork will be on display from November 6th to Dec 3rd at the gallery on Church Street in Old Town Bluffton. This show also serves as an important fundraiser for SoBA. The artists traditionally share a large portion of their commission with the gallery from this exhibition.
SoBA is the flourishing art hub in Bluffton's historic district at the corner of Church and Calhoun streets. SoBA offers regular art classes, featured artist shows, exhibitions and more. Please visitwww.sobagallery.comfor a complete calendar of events and other information or call 843-757-6586.