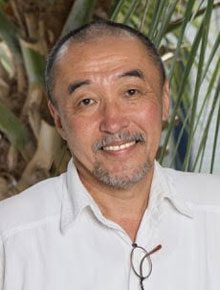 Beaufort artist, Aki Kato, announced today that he has been commissioned to paint a Lowcountry marsh mural on wall space that faces the street at the newly opened Tidal Wave Auto Spa on Sams Point Road in Beaufort. The wall measures 10' X 27.5'.
Alyson Ford, Marketing Director for Tidal Wave Auto Spa, said a Google search led them to Aki's work. "Based on our building design, we had a large empty wall facing Sam's Point Road that we wanted to make more attractive and incorporate some local culture into our newest location" Alyson said. Greg Auten, the Beaufort Auto Spa owner said that from their first conversation with Aki they have been impressed with his professionalism, responsiveness and attention to detail. Greg added "We love his story and his work. It seemed like a perfect fit for us."
Tidal Wave Auto Spa has been recognized for quality work & service and has received civic awards for the bright and beautiful appearance of their sites. The Beaufort installation is the 18th Tidal Wave location across Georgia, North & South Carolina and Florida.
Living and working in the Lowcountry for 15 years, Aki paints murals and stand- alone artwork for clients in the Beaufort area, Bluffton, Hilton Head, Savannah and Charleston. Other public works include a replica of the Great Seal of South Carolina which hangs on a 2nd floor wall in the Beaufort County Courthouse. In 2016, he painted a Lowcountry mural on a free standing, 3-panel screen for the Pat Conroy Literary Center.
Aki will spend the first few days preparing the surface for painting. Artwork will start late this week with a completion date expected at the end of June.
View his gallery of artwork on his website: www.akikato.com and follow him on Facebook to track the progress of this project.