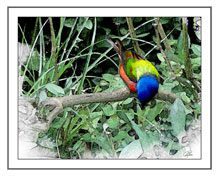 Beaufort Art Association (BAA) Gallery presents an exhibit entitled 'Blending Digital Art with Photography' featuring artist Gordon Fritz from Sept. 2 – Oct. 28. A reception for the artist will be held at the Gallery located at 913 Bay Street in Beaufort on Friday, Sept. 7, from 5 – 7:30 p.m. The public is invited.
The use of Digital Art and Photography has become very popular with the advent of the Giclee printing process and the digital camera. This combination prevents fading of photographic prints. Quality Giclee prints have an archival life of almost 200 years. According to artist Gordon Fritz, digital art and photography have now joined the 21st century.
"These new developments in the photographic process have expanded its role as an artist's tool,"
Fritz says. "In the past, a photograph might have been used to capture an image that many artists used as a reference point in creating their final image. Today, it can be a vital part of that final image, which is no more related to a photograph than a watercolor painting is. The end product of the digital conversion of an image via several computer software programs to capture what is seen by the creative eye of the artist may be a mixed media print using digital processes, watercolor paint, acrylics or any medium."
Fritz describes himself as a biologist, naturalist, teacher, photographer and graphic artist. A photographer since his college days, he has used his photographs to study the projected environmental impacts of various Southern coastal real estate developments, such as Kiawah Island, Belle Isle, and Moss Creek Plantation. As the photographic process evolved into an art form, he applied it to his work with the hybridization of new varieties of daylilies, creating images of his new cultivars. Some of those images will be included in the exhibit at the Beaufort Art Association Gallery.
Fritz's work has been described as "stunning imagery" and "cutting edge beauty." In reality, he says, he and his creative work are laid back and immersed in the coastal salt marshes and forest of his home overlooking the ACE Basin along the Coosaw River.
Besides his work, the work of approximately 60 other local BAA member artists will also be on exhibit. Chartered in 1957, BAA is a tax-exempt membership organization with total membership of approximately currently175 local artists. To find out more, go to www.beaufortartassociation.com, or call (843-521-4444.