On Friday, September 18, art galleries in Old Town Bluffton will be keeping their doors open late in another in their series of gallery walks.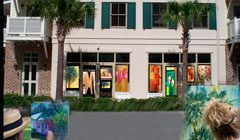 And for this gallery walk, visitors will encounter art in Old Town even before they walk into a gallery – it's in the windows in a number of storefronts the Promenade.
This first official "public art" installation in Old Town Bluffton will be celebrated with a day of festivities beginning at 10 a.m. with artists painting outside around town and finishing with an evening Gallery Walk with wine tasting and Baileys and coffee.
"When folks visit Old Town Bluffton, dine at one of the exciting new restaurants in the Promenade or walk around town, they will see a sampling of what is available inside our seven galleries," said Dave Dickson, President of the Society of Bluffton Artists. "We have so many talented artists and wonderful galleries. This exhibit offers an opportunity to see a sampling of Bluffton's over 200 2 & 3 dimensional exhibiting artists without even stepping foot in a gallery."
Public art is not a new concept, but it is relatively new to Old Town Bluffton. Cities like Charleston have installed art in windows, allies, in restaurants and shops, on lamp posts and in many other public spaces. This first phase in Old Town introduces "Art in the Windows Around Town" in storefronts in the Promenade. Future phases are hoped to include public sculpture installations, installations in commercial and retail buildings and other venues around town. "Coastal States Bank near the post office has been hosting public art exhibits for some time," says Dickson, "and, the Maye River Gallery has a sculpture garden in their yard that has been certified as a "Wildlife Habitat" by the National Wildlife Federation. With the addition of Art in the Windows, we've got a great start."
Bluffton has a history of being a hub for the arts in Southern Beaufort County. This project will build on that tradition featuring an expanding community of artists and venues around town in unexpected places. "Art allows for the exposure of new ideas as well as statements of tradition and environmental concerns to a culture," says Charlene Gardner, owner of Four Corners Art Gallery and Board member of Old Town Bluffton Merchants' Society. "We look forward to community outreach exhibits as well as new interactive opportunities."
"Our goal", says artist and Old Town Bluffton Merchants' Board member Diane Dean, "is for Bluffton to become a 'Work of Art' in addition to a 'State of Mind'."
Leah McCarthy, President of the Old Town Bluffton Merchants' Society, says "Bluffton is a unique blend of shopping, restaurants, galleries and services. Public art installations are a perfect next step as we mature yet strive to maintain our sense of small town community. "
Sponsors for the exhibition and event include the Old Town Merchants' Society, Coastal States Bank, The Bluffton Sun, Society of Bluffton Artists, Captain Woody's, and The Garden Gate.
Events include:
– 10 a.m. – 4:00 p.m. Artists at work in the Promenade and on Calhoun and Boundary Streets.
– 3:00 p.m. – 5:00 p.m. Bluffton's schools Chalk Art contest with judging and a grand prize of an art supply gift certificate (chalk provided)
– 4:00 p.m. – 5:00 p.m. Dixieland Music provided by the Sun City Strummers
– 5:00 p.m. Keynote Address and Ribbon Cutting Ceremony with former S.C. Arts Commission Executive Director Suzette Surkamer
– A "Treasure hunt" with prizes including a grand prize dinner gift certificates by Captain Woody's
Special gallery activities during the gallery walk: Soba – Free Wine Tasting – Wine provided by Reeves Outside Catering ; Filling Station – Artist demonstrations; Maye River Gallery & Pluff Mudd Art – Jazz by Roy Franco; Jacob Preston Pottery – Life demonstrations by Bluffton's Tallest Potter; Old Town Bluffton Vintage Posters – Caribbean music; Four Corners Framing –Baileys, coffee and sweets
Sponsors include: Old Town Bluffton Merchant's Society, Coastal States Bank, The Garden Gate, Custom Framing by Chris, Reeves Outdoor Catering, Captain Woody's
For more information contact: Diane Dean 843-247-1368