The retired Marine has traded his rifle for a paint brush, and it's a beautiful thing.
By Marie McAden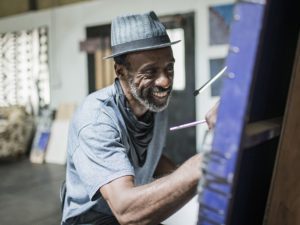 In the twilight tour of his 20-year military career, Abraham Brown served as a gunnery sergeant on Parris Island, training U.S. Marine Corps recruits how to shoot an M16. When he retired in 2010, he traded a rifle for a paint brush, fulfilling a lifelong dream to become an artist.
The father of two was in his mid-40s when he enrolled at the Savannah College of Art and Design (SCAD) eager to pursue a passion that had burned in his soul since childhood.
"I was the oldest guy in my classes," said Brown, who commuted for four years from his home in Beaufort to the historic Georgia city. "But it's what I always wanted to do – to be a professional artist."
This month, the up-and-coming 50-year-old painter will be featured in a one-man show at the Port Royal Sound Foundation Maritime Center in Okatie. An eclectic collection of his work will be on display through the end of June in the center's Rotating Exhibit Room.
While it is his first solo show at the Maritime Center, his work has been showcased at the gallery in the past as part of a Gullah art exhibition. Brown, who uses an array of recyclable materials to create artwork with historical, spiritual and maritime themes, is a natural fit for the Port Royal Sound Foundation art program.
"We always choose artists who are influenced by Port Royal Sound, our history and our culture," said Port Royal Sound Foundation Executive Director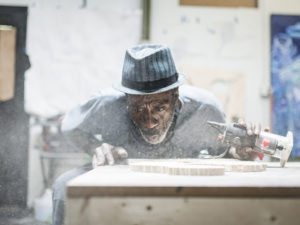 Jody Hayward. "Abraham is an amazing artist who conveys a narrative in his work based on the world he sees, hears and touches."
It is a practice he developed as a child growing up in New Orleans under the care of his Honduran grandmother and great-grandmother. Despite his talent for sketching, his caretakers steered him away from a career in art.
"They didn't see it as practical," Brown said. "I wish as a kid I had been pushed to take classes that would have allowed me to develop as an artist."
Instead, Brown joined the U.S. Marines in his early 20s. Over the next two decades he traveled the world from Spain and France to Turkey and Israel working in various military occupational specialties, including water purification and aircraft recovery, all the while practicing his craft.
His work is displayed in Okinawa as well as on military aircraft and at the battalion headquarters in San Diego. He also painted a mural for one of the U.S. Marine Corps balls.
In 1996, he was sent to Beaufort to help train recruits.
"I immediately fell in love with the area," Brown said. "It reminded me of New Orleans, the way the oaks hang over the road."
It was during his one-year stint in the Lowcountry that he discovered SCAD and made the decision to return one day to study art. He got the chance in the final years of his military career when he was sent back to Parris Island in 2007 to work on the rifle range.
He and his wife bought a house near the Marine Corps depot and settled in with their two children, adopting Beaufort as their permanent home.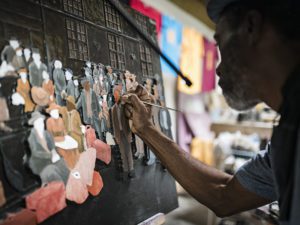 In 2013, three years after retiring from the Marines, Brown enrolled at SCAD. After one semester studying Sequential Art (the artform used by comic book artists), he switched to Fine Art.
"At the time, Sequential Art seemed more practical," he said, "but painting is what I really wanted to do."
Since graduating in 2017 with a B.F.A. in Painting, Brown has pursued his passion with a vengeance. In 2018, he partnered with artist Diane Britton Dunham and others on a project to create a mural in a tunnel at the Technical College of the Lowcountry's Mather School, originally opened in 1868 to educate the daughters of liberated slaves.
The mural was to focus on historic figures and notable African-Americans from the modern era, chronicling three centuries of contributions to the world. Brown was the first of the artists to take up his brush, painting five Civil War African-American soldiers on a wall leading into the tunnel.
He went on to create a Black Lives Matter piece – the first of his works using a technique that incorporates newspaper overlaid with colored tissue paper – now hanging in the CorkHouse Gallery in Savannah.
Eight of his paintings also are displayed in the Beaufort County Black Chamber of Commerce office and another dozen are exhibited in the Savannah
Convention Center. He is currently preparing for an upcoming show with Amiri Geuka Farris at the Art League of Hilton Head Gallery in the Arts Center of Coastal Carolina.
"Art is a beautiful thing," Brown said. "I love that I can make something from nothing using just my imagination and inspiration from the world around me."
Abraham Brown's artwork will be on display through June 30 at the Maritime Center, 310 Okatie Hwy. Hours of operation are from 10 a.m. to 5 p.m. Tuesday-Friday and 10 a.m. to 4 p.m. Saturdays. Admission to the Maritime Center is free. For more information on the exhibit, visit portroyalsoundfoundation.org or call (843) 645-7774.

Photos by Andrea Fabian with Palms and Places Imagery