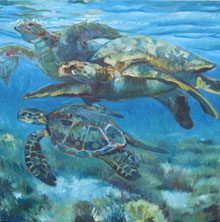 Who doesn't love animals? From household pets to beasts in the wild, Beaufort Art Association Gallery is hosting a new exhibit called "Animals We Love." The Association has over 200 local member artists and over 75 will be exhibiting their favorite creatures – great and small.
Featuring all mediums: acrylics, watercolor, oil, pastel and mixed media, along with fine art
photography and digital art, the show runs through June 25. Also on display is a wide variety of fine hand crafted jewelry, hand painted silk scarves, wood turned bowls, sculpture and raku pottery.
            A wine and cheese reception will be held on Friday May 6th from 5:00 – 7:00. The public is invited to attend.
            For more information about "The Animals We Love" exhibit or the organization in general, please visit www.BeaufortArtAssociation.com or call the BAA Gallery at 843-521-4444.
Above:
"Blues Brothers" by Paul Rossman
"Heading into the Night" by Gina Sismilich