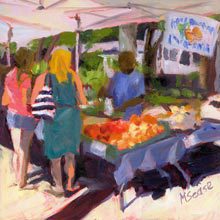 The Society of Bluffton Artists presents "Summer Light," a lively collection of recent paintings by local artist Murray Sease, on display from September 2 through October 4.
Sease is inspired by the vibrant local scene, especially the intense colors of the Lowcountry in the summertime. She tries to catch the bustle of the farmers markets and the bountiful produce found there; the historic architecture, lush landscapes, beautiful wildlife, and some not-so-wild life—the odd farm animal and her family's chickens enjoying the cool shade and dappled sunlight. These feathered ladies are some of her favorite models.
With exuberant brushstrokes and vivid colors, Sease strives for an impressionist feeling in her paintings—subjectively recording experiences by capturing fleeting impressions, emphasizing the immediate aspects of a scene. Winning first prize in the oil painting category at SOBA's 2014 Annual Judged Show and garnering regional interest in her art, Sease has found new confidence in her work and is excited to share her latest paintings with you. Please join us at a reception to meet the artist from 5 – 7 pm, on Friday, September 5, at the SOBA Gallery. Enjoy refreshments, "Summer Light," and the work of over 100 other member artists.
The gallery is located at the corner of Church and Calhoun Streets in Old Town Bluffton. Call 757-6586 or visit sobagallery.com for more information.