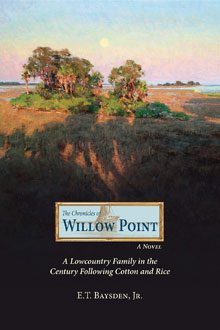 "This is a work of fiction. However, with a single exception (and as outrageous as some of them may sound) all the incidents described here really happened"… Thus begins the Author's Note introducing The Chronicles of Willow Point, a new novel by Beaufort's E.T. Baysden. The following is an excerpt from that novel.
Chapter 37: Savannah River Site, Aiken, SC

Liz dropped Susan off at the train the following week. She was taking Fran to a horse show in Aiken, and Yemassee was right on the way. They were hauling a borrowed one-horse trailer with a four door pickup because the Captain's old Chevy was on its last legs and there just wasn't money to spring fora new one. Aiken was a charming upcountry horse lover's paradise right on the Savannah River, which they would be paralleling the whole way. But to get there, they would have to traverse a stretch of road that Liz had only heard about. But she had heard plenty.
The Savannah River site was built in the 1950s, to refine materials for use in nuclear weapons. It covers almost 310 square miles and employs more than 10,000 people. Because it creates nuclear bombs, in the vernacular of the rural south it became known as "The Bum Plant."
To develop the massive site and its several giant plants, the Department of Energy had to purchase and destroy the incorporated South Carolina towns of Ellenton and Dunbarton, plus three smaller settlements. Ellenton, the largest, was actually moved fourteen miles to the north. A hand painted sign left on the original site says:
It is hard to understand why our town must be destroyedto make a bomb that will destroy someone else's town wholove it just as much as we love ours. But we feel that theypicked not only the best spot in the U.S., but in the world.We love these "dear hearts and gentle people" who livein our hometown. Given the enormous weapons build-upof the two superpowers and the expected consequenceof Armageddon having been avoided so far, the town'sepitaph has been proven: they gave their town so that civilization could survive.
The town was renamed New Ellenton.
South Carolina Highway 125 runs directly through the Savannah River site, and it may be one of the few roads anywhere that tells you not to slow down. The cardboard pass Liz and Fran were given at the gated entry on the Allendale side
read:
DO NOT LEAVE MAIN ROAD
NO SLOWING DOWN OR STOPPING ON ROAD
DO NOT EXIT VEHICLE.
NO PHOTOS.
They were slightly puzzled at first, but it was not hard to figure out. The pass had been stamped with the exact time of entry. A guard at the out-gate could instantly determine whether they had gone faster or slower than the prescribed 50 mph, or if they had made any stops. As they traveled through the Bum Plant, they began to get the feeling they were living in a James Bond movie.
The first bridge they came to crossed a creek bed abouta hundred feet wide, but there was no creek – the canal was completely dry but for a tiny rivulet standing in the middle thatindicated something had once been there and would be again.
In a few miles, they crossed another such bridge, but flowing under this one was a torrent of water, bank to bank, and the water was boiling! Rolling bubbles were bursting on the surface under a cloud of thick steam. "My God," Liz said, "what on earth is going on there?" About a mile down a road that ran beside the canal, they glimpsed an enormous factory with huge chimneys, also belching steam.
"They're trying to hide something," Fran said, glorying in the obvious, but permissible in a twelve year old.
A few miles down the road they crossed another canal. This one also held water, but it was covered in amazing vegetation: giant cat tails ten inches in diameter, lily pads the size of trash can covers, bamboo thickets twice the normal size. "I've heard about this," Liz said. "Dad says there are reports of 20-foot alligators living in this swamp, catfish of a hundred pounds, deer with 20-point racks – all bred from the radioactive effluent the plant puts out."
"This place was spooky enough already, without knowing that," Fran said. "And we haven't seen another car on this road. Can you imagine being a teenager coming home to hear not just that you were going to move, but that your whole town was being destroyed?! Gives me the creeps!"
Going out the other gate, the guard indeed calculated their speed, and they were waved through and on their way to Aiken. The little town itself was an unlikely sort of place. Founded in 1835, it was an oasis of hills and hardwoods amidst a very flat
and unappealing surrounding terrain. It had won a rare battle against Sherman's invaders in 1865. After the war, it became a fashionable "sporting retreat" for wealthy northerners. This began when Mr. Thomas Hitchcock, a New York industrialist, bought land and began inviting down his northern friends.
They were all avid equestrians and soon Aiken had a reputation as one of the South's horse capitals. And soon after, it was one of the leading Polo venues on the east coast. Pete Bostwick, known for years as the best player in the world, built an enormous home there, thus establishing little Aiken as an equestrian magnet for the well-to-do.
After the Horse Show (Fran failed to post, but she would do so many times in the years to come), Liz had reserved a table and guest room at the Wilcox Inn, a beautiful and historic hostelry managed with European flair by a Swedish chef named Nils Jorganson. The next morning, when the truck was packed and
the horse and trailer collected from the boarding stable, Fran said to Liz, "Mom, can we go home a different way?" Memories of the Bum Plant would stay with her a good, long while.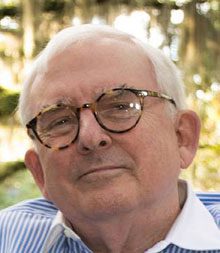 E.T. Baysden has spent most of the last half century in the SC Lowcountry, where he served as chief marketing officer for Sea Pines Resort, Callawassie Island, Spring Island, Oldfield Club, and Palmetto Bluff. He is also the author of The Rock Jaw Ladies Club: A Memoir of the Other Vietnam. He is a fly fisherman, an Episcopalian, and an avid Tar Heels fan. To learn more about his novels, visit www.baysdenbooks.com