Beaufort native, L. H. Davis is a winner in the L. Ron Hubbard Writers of the Future Contest, earning him a trip to Hollywood, a week-long master-class workshop, and his winning story will be published in the international bestselling anthology, L. Ron Hubbard Presents Writers of the Future Volume 39. 
L. H. Davis (aka "Larry") lives on the Space Coast of Florida. Born and raised in the Beaufort area, he earned a degree in mechanical engineering from University of South Carolina. He then moved to Florida to work in robotics. After writing dozens of technical proposals for non-existent, advanced technologies, he decided to give science fiction a try. Discovering that it too was a form of designing, he retired from engineering to write full time.
"Timelines and Bloodlines" is an adventure set in both the future and the past. Would a knight on horseback stand a chance against a modern soldier? Would that soldier be wrong to even defend herself? Could she if she tried? Larry commented, "I'm a plotter. I like to know where a story is going, how it will end, but Angela (female lead) took the reins on this one. The closer I got to the end, the harder she pulled the story her way. She did good."
Larry is a member of Florida Writers Association, "Writers Helping Writers." After winning their Royal Palms Literary Awards several times in multiple categories, they asked him to become an RPLA judge. He enjoys providing constructive feedback, and also hosts a weekly online critique group. Larry has self-published four novels as well as a novella. He writes in multiple genres: sci-fi, fantasy, historical, and YA paranormal. 
Larry entered the Writers of the Future contest twenty-five times before winning. His motto: "Never give up."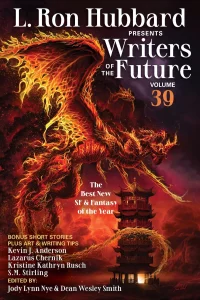 The Contest, one of the most prestigious writing and illustrating competitions in the world, is currently in its 40th year and is judged by some of the premier names in speculative fiction.
The Writers of the Future Contest judges include, Tim Powers (author of On Stranger Tides), Kevin J. Anderson and Brian Herbert (Dune prequel series), Robert J. Sawyer (Quantum Night), Brandon Sanderson (Mistborn series, The Stormlight Archive), Larry Niven (Ringworld), Orson Scott Card (Ender's Game), Nnedi Okorafor (Who Fears Death), David Farland (Runelords), and Katherine Kurtz (Deryniseries) to name a few.
The Illustrators of the Future Contest judges include, Bob Eggleton (11 Chesley Awards and 7 Hugo Awards), Larry Elmore (Dungeons & Dragons book covers), Echo Chernik (graphic designs for major corporations including Celestial Seasonings tea packaging), Rob Prior (art for Spawn, Heavy Metal comics and Buffy the Vampire Slayer), Ciruelo (Eragon Coloring Book).
Following the 1982 release of his internationally acclaimed bestselling science fiction novel, Battlefield Earth, written in celebration of 50 years as a professional writer, L. Ron Hubbard created the Writers of the Future (writersofthefuture.com) in 1983 to provide a means for aspiring writers of speculative fiction to get that much-needed break. Due to the success of the Writers of the Future Contest, the companion Illustrators of the Future Contest was inaugurated five years later.
The intensive mentoring process has proven very successful. The 382 past winners of the Illustrating Contest have produced over 6,000 illustrations, 360 comic books, graced 624 books and albums with their art and visually contributed to 68 TV shows, and 40 major movies.
The 452 past winners of the Writing Contest have published 1,150 novels and nearly 4,500 short stories. They have produced 32 New York Timesbestsellers and their works have sold over 60 million copies.
The Writers and Illustrators of the Future Award is the genre's most prestigious award of its kind and has now become the largest, most successful and demonstrably most influential vehicle for budding creative talent in the world of contemporary fiction.
Since inception, the Writers and Illustrators of the Future contests have produced 38 anthology volumes and awarded over $1,000,000 cumulatively in prize moneys and royalties.
For more information about the Contests, go to www.WritersoftheFuture.com.