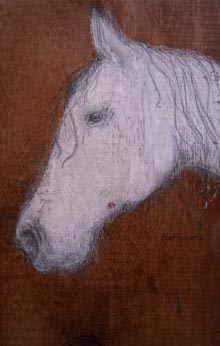 The Charles Street Gallery invites you to a celebration of new artwork.
Seven Lowcountry artists, with great international flair, fill the Charles Street Gallery in Beaufort SC with scenes of salt marshes, kayakers, horse paddocks, green rolling hills, Jordanian architecture, and French cabbage gardens. Join them for a reception and celebration of new work on Friday, November 18, 5pm-until the turkey gobble-gobbles.
Joan Templer fills the first floor gallery of the renovated home in historic downtown Beaufort. Her work is always grand, and can focus to bring a particular tonality to the viewer, or her canvas can open up into a wild neo-primoridial scene from Africa. Her book, Joan's Eye, documents her career, and is also available.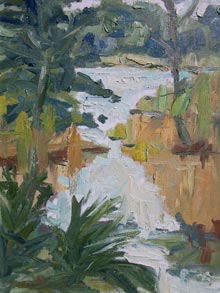 The Charles Street Gallery dedicates their second floor to the work of Lynn Brown, Sharon DeAlexandris, Carol Henry, Jim Rothnie, Sara Timmons, and Nancy Sturgis. The work of these six artists celebrates the wide world of colors, imagery and scenes that drip, slide and smudge from their brushes and esoteric artist tools— they know how to trumpet vibrant tones, share with holiday joy, and spread around beauty, as delicious as chestnuts on an open fire.
Meet the artists & enjoy the reception on Friday, November 18 at 914 Charles Street in Beaufort. The Charles Street Gallery is an established source for Lowcountry and international art, presented within a carefully renovated house surrounded by a lush garden in the middle of Beaufort's historic district. 843-521-9054, thecharlesstreetgallery.com.