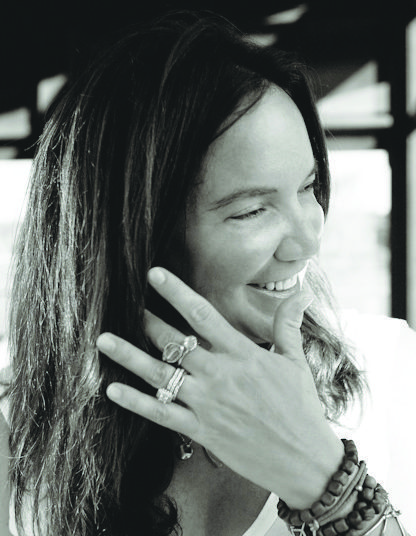 I just turned a gingerbread man upside down and made a reindeer, y'€™all.
For real.

And not to brag too much or anything, but he had gorgeously delicious Oreo crusted eyes, a shiny, red M&M buttoned nose and a scarf made out of edible snow. It'€™s as if my new spirit animal forever now and will always be Dancer, Prancer, Donner, and Vixen combined with every single Sugar Plum Fairy all caffeinated and lined up in a neat, pixie color-coded row . . . like magic.
At this very moment, there is no gumdrop mountain high enough; no white chocolate cocoa river wide enough to keep me away from the Christmas spirit, if you know what I mean. And like your grandmother€™'s fruitcake recipe and receiving socks in your actual stocking, for me, this is nothing new.

Case in point: in my short 45 years, I have made 75 feet of garland out of 20 pounds of crushed seashell and 12 industrial strength reels of nylon fishing string. I€™'ve willingly turned 3 dozen crates of Mason jars, foraged junk drawered forget-me-nots, and random yard leaves into snow globes. I have wrangled and tussled with a truck load of cellophaned Toll House cookie dough knee deep and corn syrupy thick into all sorts of various festive things. I€™'ve lovingly and without fear sculpted boiled-over batches of pine scented soy into candles coated in a winter wonderland aura of Epsom salt and subtle hints of hope. Not to mention, all of the countless quarts of Elmer€™s glue, the hefty pound bags of self-rising flour, and the stock piles of old shoe boxes constructed into the sturdiest of Dickensian Christmas villages wrapped into a toilet tissue ball of whimsy and lore.
Only, as soon as the rush of the holiday season comes to a screeching halt, when all of the presents are unwrapped and the glitter and pine needles fall to be swept forever up, all of this homemade, holiday magic seems to evaporate into what it once was.
Everyday, ordinary objects.
The kind we walk by, throw out and discard; the popsicles sticks, the cotton balls, even the magnolia leaves hanging in bounty that only yesterday we were frantically foraging for, we now walk by without notice on the way to our car.

It'€™s as if the new fallen snow of the holidays evaporated into dirty dishes piled high in the sink and the laundry stacked even higher on the washer.
All of our holiday adornments that were just laid by the chimney with care, are now tossed into tubs, haphazardly stowed away and so we can quickly get ready for the grind all over again.

The bloom eventually does fall off the poinsettia and the electric LED illumination in the air sooner than later dims so REAL life can set in again. Or that's the conventional way we view it.
How many of us, and I am guilty as well, tell ourselves if it happens every day it will cease to be special? As in too much is, well, too much. It'€™s like the fancy, expensive Kitchen Aide blender sitting on the countertop. If you use it all the time, you'€™re a boring old baker. It'€™s a job. If you only use it a few times a year, you are a bona-fide holiday magic maker.
Case point: When I was around 7 or 8 years old, I followed my Dad one Saturday morning over Christmas break down to his workshop. I still, to this day, have no idea what he was whittling away on, but evidently, I took quite a few of the scraps that had fallen onto the floor, and with my very own tube of Elmer'€™s glue, made the scene of the Nativity. From every Christmas forth, my wood-working scene of Christ's birth in the manger was on display on the mantle in all its glory. To be honest, I didn'€™t see it. If it had been any other month, my mismatched cacophony of splinters and bark might have gone unnoticed. Just a heap of sticks and sawdust. An ordinary day of play.
But, you see, the most precious things are indeed priceless.
And the discarded, left over scraps, are the most priceless of all.
It'€™s to see the extraordinary in the ordinary . . . the magic . . .
Even if it'€™s only one time a year.
Only, let'€™s make a New Year'€™s resolution together. As in, let'€™s turn it upside down, y'€™all. Let'€™s find the extraordinary every single day, one day at a time, all 365 days of the year.
Love you, mean it. Merry Christmas and best wishes for the happiest of a New Year.