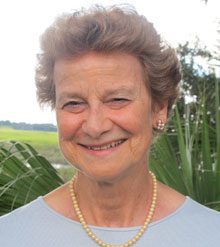 A few days ago, I "ran" into a neighbor as we rolled our trash containers to the curb for pickup. Six feet apart, of course. He always has a smile and a wave, and I was delighted at the chance to have a chat with him. After establishing the fact that our respective households were well – definitely protocol these days – he said he had a story for me. Turns out his son-in-law, daughter, and their 3-month-old baby had been visiting from Up East when the world scaled back. Several weeks later, they're still here with grandad Doug and his wife. I'm sure lots of folks who can only see their grands virtually right now would be envious of the quality time this family is experiencing.
At any rate Doug had announced he needed a haircut but didn't really want to go out at that point to get one. And without hesitation, his daughter stepped up and offered to wield the scissors. 
   "It took an hour," he explained, "and once something startled her and there was a tiny slip, but I think she did a great job." I gave his hair a quick glance and concurred. He then added the clincher. "But the best part is that I realized I hadn't spent that type of quality time with her in years." And a heartfelt smile lit his face. 
   Talk about inspiring. Stories like Doug's, about loved ones re-connecting at a deeper level, are springing up daily now. 
   In another example, a Louisville friend texted a picture of her daughter's family – a mom, dad, and three kiddos ranging from 10 to 21 – dressed up in their fancy, stepping-out clothes. All have been hard-core sheltering in place for at least a couple of weeks. Those old enough held flutes of champagne and the youngsters, sparkling grape juice. The family had decided to have a formal meal… in their own dining room. No cell phones. Just conversation. They all learned new things about each other. No matter their age, every single member loved it enough that they'll do it again. 
   These true tales are the stuff of real life and growth during this time of opportunity rife for those very things. Recently, I've received several photos of new babies. It's truly touching to see lives just beginning. In my book, this is a time for connecting with people, whether it's via zoom or FaceTime, texting or phoning, or six feet away. 
   A video posted by talented Beaufort songstress and actress Elaine Lake on Facebook last week brought to my attention a song that rings so true for these times. Recorded in her car, Elaine's rendition of "People" is, of course, absolutely lovely. Though covered through the years by such notables as Andy Williams, Ella Fitzgerald, Dionne Warwick, Nat King Cole, Aretha Franklin, Perry Como, and The Supremes, the song was introduced byBarbra Streisand in the 1964 Broadway musical, Funny Girl, and has become one of her signature titles. The 1998 Grammy Hall of Fame tune touches hearts.
   I suggest you go online and find a version – maybe Elaine's. Listen to the words and see if you don't agree with their relevance. People who need people are no doubt lucky. Most of us do. Especially now. Writer Anais Nin said it well. "Each contact with a human being is so rare, so precious…" 
   Connectivity with our fellow human beings is one of two things of ultimate importance to embrace during the current limited in-person, face-to-face time. Both are good for the soul.
   The second is nature. Seems a lot of folks are experiencing a heightened awareness of the outdoors and its flora and fauna. Present company included on that one for sure. I've always loved nature but right now, this springtime seems to be extra-gorgeous. Really putting on a show for us when we all could use a good boost. My heart leaps to see Mother Nature moving right on with life: a hummingbird buzzing in my bottlebrush bushes, barred owls hooting, "Who cooks for you?" at one another in the tall trees across my street; camellias, azaleas, and dogwoods competing with a host of other spring blossoms and hydrangeas leafing out, soon to flower; glassy coastal waters stretching for endless fathoms, reflecting wisps of cottony clouds above in a baby blue sky; marshes slipping into their brightest greens, just in time for Easter. 
   And speaking of green… it's pine pollen season – the scourge of Lowcountry porches, cars (I could've sworn mine was red and not luminescent green!), and the big one, respiratory systems. Like we don't have enough lurking around right now to mess with our airways. Many of us identify with Lowcountry Weekly Editor Margaret Evans in her last column, about off-and-on panic as to whether a scratchy throat, coughs and sneezes are corona-caused or simply the Lowcountry's green time of year. I'm choosing the latter. To quote that illustrious frog, Kermit: "It's not easy being green." 
   No doubt the times are scary. Fear mongers among us – and there are indeed many with specific pundit-worthy details on exactly how awful our lives could get – would have us believe that this time of the corona virus is ushering in the "end time." But one of numerous things that give me comfort and keep me optimistic about a better future in a kinder world is that people in times past have thought the same thing. That their particular challenge was it. Many folks during those times could not see any light at the end of the apparent tunnel. But here we are. Still chugging along, albeit bedecked in gloves and masks. You'll have to admit, some of those face coverings are pretty darn creative and – dare I say? – funny. People…ya gotta love 'em!
   For now, seek out those heartwarming stories. Collect a few of your own. Admire the splendor of our Lowcountry spring, and above all, love the one(s) you're with.