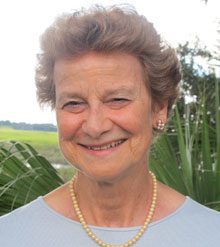 In 1776 philosopher and writer Thomas Paine famously penned, "These are the times that try men's souls." They were indeed, as the Revolutionary War raged, dividing the populace. Never having experienced a war on American soil in my lifetime, I can only imagine how those people dealt with their day-to-day's, with no idea what direction tomorrow might take. For many folks the current corona virus pandemic has triggered that fear of the unknown, perhaps mirroring the initial confusion brought about by 9-11. 
As a fairly organized person, I'm good as long as I can pigeonhole an issue in its proper place, even if I can't understand it immediately. For example, evacuating for my first hurricane, Matthew, was terrifying. It was the "not knowing" if it might actually hit Beaufort (I was under the delusion that we had decades before another storm of that magnitude might make landfall in our Lowcountry.), when it might hit, how hard it might hit, if my property might be a target, and the big one, if and when to evacuate. I felt as if I were trying to make decisions completely beyond my ken. Which I was. My first experience with hurricane brain. These times are evoking in many of us that same unsettling phenomenon, except this "hurricane" is stalling offshore, its timing, results and eventual outcome, all complete mysteries.
So in the interim, what can we do to ease these widespread worries? I have a few suggestions. No apologies here for being a Pollyanna. 
Creativity seems to be crackling these days. And what a great time to make art, write life stories, begin a novel, work outside in the dirt, paint a bedroom, or try a new recipe using what's been lurking in the back of your pantry. Local artists are posting their creations online. You can browse and select a new painting for your living room from way more than six feet away. Or treat your fellow sheltering-in-place family and friends to a meal that you didn't have to cook by ordering tasty takeout from a Beaufort restaurant. You can peruse the list of eateries that are open and their designated "takeout parking places" at http://www.beaufortsc.org/bftprtogo.  
Discover the world of MOOCs (Massive Online Open Courses), many of which are free and self-paced. For instance, Yale offers The Science of Well-Being, the school's most popular class, which began on March 25, but I believe you can still sign up for this 10-week class. Due to the times, Yale is waving the usual fee, though you can pay $49 and receive credit. Imagine the prestige that'll bring you…Yale, for heavens sakes. And the University of Central Florida offers The Psychology of Art and Creativity, which includes the study of healing through art. Time required is only four hours per week. Just Google other opportunities for more choices.
Download the ZOOM app and have meetings, hash sessions, cooking meetups, or virtual cocktails with friends. The options are endless.
Should you feel alone, Google "balcony singing in Italy" for guaranteed-to-lift-your-spirits video footage of Italians in Rome and Milan taking to their balconies to sing with neighbors, using pots and pans for rhythm and draping posters from on high that read "Everything will be fine." Gotta love it.
If you find yourself speeding along on the ol' emotional roller coaster, heed the words of Rumi, 13th-century Sufi mystic, Persian theologian, and Islamic scholar. A remarkable poet, Rumi has been described as the "most popular poet" and "best-selling poet" in the United States. His words ring with wisdom. Following is a quote from The Essential Rumi, Coleman Barks, translator:
The Guest House
This being human is a guest house. 
Every morning a new 
A joy, a depression, a meanness,
some momentary awareness comes
as an unexpected visitor.
Welcome and entertain them all!
Even if they're a crowd of sorrows,
who violently sweep your house 
Empty of its furniture,
Still, treat each guest honorably.
He may be clearing you out 
for some new delight.
The dark thought, the shame, the malice,
meet them at the door, laughing,
and invite them in.
Be grateful for whoever comes,
because each has been sent
as a guide from beyond.
 – Rumi
Practice being circumspect. Make lemons out of lemonade (eye roll). Use this time to create positive changes in your life. Eat well. Walk outside. That's easy in Beaufort. Slip into your Nikes or skates, grab your bike, scooter or dog, and head for the Spanish Moss Trail to ogle its gorgeous water, woods, and wildlife. Explore Crystal Lake Park, the National Cemetery, The Sands, and Port Royal's Cypress Wetlands. Always apply the six-foot rule. 
Help others, especially the elderly, who may be lonely and need assistance with projects or could use a friendly hello. Acts of kindness are popping up around the world: soup delivery to older folks in the UK, an exercise class for quarantined residents on their balconies in Spain. 
A group of Colorado's Douglas County residents ordered 125 sandwiches for their local hospital staff to be delivered by a local restaurant that had recently opened. It's one thing to thank your local healthcare personnel, first responders, et al, on social media, but much more heartwarming and tummy-filling to actually supply a specific need. When the sponsoring group called to let the hospital know, the answering nurse became teary with gratitude. 
Our northern neighbors, those ever-nice Canadians, started a new trend – caremongering. Reported by the BBC, the movement is zooming across that country, with some 35 Facebook groups set up in 72 hours within various communities to help people with health issues who could be particularly vulnerable to the Corona virus. Driven purely by social media, these helpful acts are arranged online, while hashtags keep a permanent record of the virtual community and make for uplifting reading.
Don't listen to the news constantly – if at all – for a while. Too much info can be depressing. Join me in Podcast-ville and listen to your favorite programs and music while you stroll. Meditate to get rid of the stress and anxiety that are likely to depress your immune system. Meditation raises your level of consciousness or awareness, and increases your compassion for yourself and others. Deepak Chopra offers free online guidance. Write in a journal, if you feel so inclined. Tackle your to-do list and give yourself a star – or a tall, cool glass of something delicious – as a reward when you check off each project. Take a local online class in yoga (effervescenceyogaspa.com), legacy writing, or history of the Civil War in Beaufort. (The latter two are at facebook.com/olliatuscb/.) A number of arts organizations are streaming concerts and performances. Tune in to the Metropolitan Opera. Put a dent in that stack of books by your bed. Read Rumi. Keep your mind busy. 
Be aware that during these times, emotions will no doubt come and go. Just because you're physically isolating, don't socially isolate. Stay grounded by keeping in touch with friends and family through social media, telephone or letter. You remember, those personal notes that travel to a recipient by snail mail. (Yet another eye roll!) Re-read "The Guest House," and know that, as my grandmother used to say, "This, too, shall pass."
Above all, stay well.