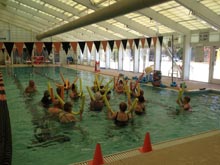 Everyone knows about the YMCA, right? Is it possible to never experience a YMCA? Sure . . . but hopefully not on our watch. Maybe you know our name, but haven't taken the time to really get to know us. Maybe the name conjures immediate visions of the Village People, or a weight room filled with intimidation.
If any of the above is true for you, we invite you to read on and truly grasp what your Beaufort County YMCA (that's right, we said YOUR) is, does and offers the community. The Y is truly SO. MUCH. MORE.
The mission of the YMCA of Beaufort County YMCA is to put Christian principles into practice through programs that build healthy spirit, mind and body for all. We are a cause-driven organization that pours into our surrounding community by way of an ever-growing preschool, a thriving, educational after school program, a competitive swim team and flourishing learn-to-swim program, and SO. MUCH. MORE. The YMCA is where many make their first friends, learn to play team sports, enjoy summer camps and experience their first jobs. The YMCA has always been and will continue to be a place where families thrive.
Each month we'll inform you about a YMCA effort, success story, event or program of interest to the community at large. This month, we'd like to highlight what we offer older adults.
Let me rephrase – ACTIVE OLDER ADULTS.
Just add water. No kidding, that's all it takes to get a fantastic workout in one of our water aerobics classes. Participants utilize noodles, Frisbees, balls, a little elbow grease and a lot of laughter. These classes are perfect for those with joint issues, as the water offers little to no impact.
Fit over 50 – you know it! These classes include light and very low impact cardio, weight training, core training and essential stretching. Not 50 or over? No problem! Come join in the fun!
Lunch Sprint. Lace up your sneakers and get ready to…ride a bike …on your lunch hour! Lunch Sprint is led by YMCA Wellness Director Denice Davis, who promises a vigorous 30-minute indoor cycling experience that is sure to burn oodles of calories and tone your muscles. Perfect for beginners, those who prefer shorter cycling classes, and for busy folks ready to get in, out and on with their day!
We've barely scratched the surface of what the YMCA is all about and can't wait to share more.
At the YMCA, we're for Youth Development, for Healthy Living and for Social Responsibility. We look forward to seeing you.
Please visit us online at www.ymcabeaufortcounty.com for more information about classes, times and instructors, or give us a call at (843) 522-9622 anytime.