By Ian Hart
It took just one visit for me to uproot and move from New York City to Beaufort, SC. The quality of my life has increased beyond measure, and as a thankful "newbie" to Beaufort, my goal is to return the favor.
In the past seven months since I opened EarthFIT Gym in Habersham, I have quickly gained clients and friends who have allowed me to change their lives for the better – but I wonder if they realize how much they've changed mine?  Daily I push people closer to their goals and through their sweat, grunts, cries and laughter, it inspires me because for me, it's not only about fitness, it's about self improvement, discipline and taking care of your body as well as your mind.
When I look back at my life's experiences, I know now that personal training was always for me. I grew up in the small town of New Fairfield, CT, where I excelled at many sports; but basketball was my true love. I played high-level basketball throughout high school and played on a National AAU team. However, somewhere along the line I realized that I would not be a professional ball player and refocused my efforts on academics, graduating with an accounting degree. I wasn't exactly thrilled at joining the corporate work force, and did so reluctantly, only to be reassured that I needed to rethink my path in life. So, I applied to and graduated from Officer Candidate School for the USMC. That experience gave me tools that proved to be valuable in personal training and the fitness industry – as well as life in general.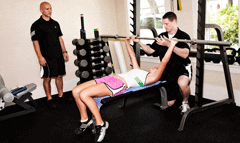 I began at an Equinox, a large corporate gym, on Park Avenue in New York. Within three months I was the top trainer in the company out of over 1,000. I was immediately promoted to fitness manager, where, in addition to training clients, I was also hiring and educating trainers on the science and service of personal training. Through hard work, constant personal and professional development and persistence, after a short time, this location became one of the most successful personal training departments in the company. This was it: my true calling, but I wanted to push further.
Soon after, Crunch NYC approached me to clean up one of its major training departments. It was there where I hired my current business partner, Bojan Mladenovic, a native of Serbia, who is not only the best personal trainer/coach I have ever known, but is also one of the most incredible people I have ever met. His work ethic and moral approach to training are unmatched.  He is a true leader and a top notch professional. His knowledge and expertise are in the top two percent worldwide and I am fortunate to have learned from him. In a way, I consider him my guardian angel. He played professional soccer, received his masters degree in sports science from one of the top universities in Europe and has coached professional ball clubs and trained professional athletes. Eventually we began talking about owning and operating our own gym and working as a team, training everyone from the average person to professional athletes. We wanted to open a gym in a place where we could live, work and be a real part of the community.  When Habersham came knocking, we couldn't open the door fast enough.
Bojan moved from New York with me without reservations and without even seeing Beaufort. Shortly after moving here, he was reunited with his wife and 2-year-old daughter, whom he had never met because he left Serbia while his wife was still pregnant.  Coming to Beaufort and seeing Bojan reunited with his family were sure signs that we'd made the right decisions.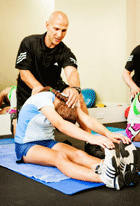 At EarthFIT, we offer the highest quality training and service and aim to make it accessible to all of Beaufort County no matter what age or income.  In the humblest of ways, I readily admit that our programs and expertise are truly difficult to find anywhere, even in New York, where it all began.  We simply want to invest in our new home, in the people who live and work around us, and help them live life to the fullest.  I want to help people realize that if they take care of themselves, the rest of life's details will be so much easier.
Our training and credentials make it possible for us to evaluate people of any age or physical condition, and recommend a plan. We can spot athletic talent in a young person, help mold that talent and train that person to be the best athlete they can be and give them the best shot at making their dreams come true. We have helped seniors renew their love of life and become active again; we have assisted mothers-to-be in making their pregnancies as healthy and happy as possible; and we've helped many others achieve their most personal of goals.
I would like to say thank you to Beaufort and the Habersham community for all your support thus far. We are truly grateful to be a part of the community.
We look forward to keeping Beaufort in the loop with us as we begin a new initiative, a weight loss contest dubbed the "Fat-to-Fit Battle," which is open to the entire community. It utilizes our group personal training, at the level of the participants' choice, to help them attain the body they've always wanted and compete for a grand prize.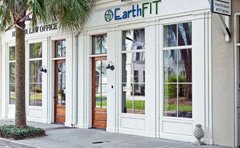 The Battle begins January 25 and our next submission will come from a participant who will show you the inner workings of EarthFIT in a way that we cannot.  We hope you'll enjoy the insider's view and be inspired.
When it comes to fitness: "Aim Higher. Train Smarter. Live EarthFit."