January means 'camellias' in the Lowcountry.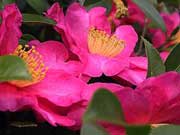 While Northern states are shivering with cold, your Southern garden could be giving you its most dazzling display of this '"Queen of all flowers." The camellia, beloved flower of our grandmothers, comes in a gorgeous range of colors and bloom style and was originally referred to as the Japanese Rose. Why you may ask?
If you were to travel to parts of Japan or China you would be sure to remark on how 'Southern looking' the gardens are there. But I'm afraid it's we who look like them, not they who look like us, as almost all the major plants (except for magnolia) that we think of as part of the 'Classic Southern Garden' were imported here from there starting in the early 1700's. From China alone, the list includes camellias, mimosas, wisterias, loquats, gardenias, tea olives, hydrangeas, and azaleas. And because Savannah, Beaufort and Charleston were such important 18th century ports involved in the China trade, we were the first places in America to receive these wonderful floral gifts from afar. Andre Michaux, the great French plant huntsman sent by French King Louis XIV to ship exotic plants from the New World back home to the royal gardens, planted the first camellia in America at Middleton Place Plantation in 1787 – the glorious (luminous pink spotted with white) 'Reine des Fleurs,' which is still alive today. Amazingly, you can buy offspring of these first American camellias in the plantation's nursery when you visit.
If you've toured any of the museum houses in the Lowcountry, then you will remember when you get to the formal dining room there is invariably a big collection of 18th century Chinese porcelain dinnerware on display. The beauty and intricacy of its floral and stylized landscape designs were all the rage of the upper classes in America and England in the 18th century. So it was natural that colonists and kings then wanted the same exotic plants like camellias, wisteria, etc. that they saw on these vaunted plates for their own gardens. And luckily, they were just a long boat ride away, coming on the same boats that brought the china plates. Even iconic Southern crops like cotton and peaches were imported from China.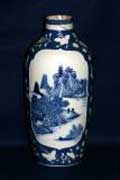 Not only did the aristocrats of England and America want the plants, they also wanted the exotic garden designs they saw on the painted China vases. Tired of the very formal style (think of Versailles' straight lines) prevalent in Europe at the time, this Chinese 'naturalistic style' had curves and wandering paths instead of straight ones, plus charming pagodas to delight the eye, naturalistic ponds and water effects. And it wasn't long before an 18th century English aristocrat did recreate this style in his own garden, which became all the rage and known in France as 'Le Style Anglais' (even though is was Chinese inspired).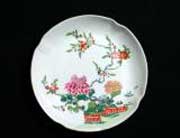 But how did this affect our gardens here in the Lowcountry? Because 'Le Style Anglais' came into vogue in the early 1700's, just at the moment that all the great Lowcountry plantation gardens were being developed and was a perfect solution to the problem landscape designers had here of combining the 'wild nature of the New World' with the formality of the 'style ancien' (or the formal style).
Think about Middleton Plantation, (circa 1741). Its broad, sweeping, straight formal lines (like Versailles) perfectly meld into the curving natural butterfly lakes and sinewy curves of the oaks, marshlands and river beyond. It reflects a watershed moment when old and new came together. And Middleton remains, not only the first formally designed landscape garden in America, but one of its greatest because it successfully bridges these two converging traditions.
And this trend toward 'naturalism,' started at Middleton, continues all the way up to today with the emphasis these days on 'native plants', grasses, naturalistic plantings, curving walkways and the inclusion of native trees, and water features into our landscape design, Even the entire design of Hilton Head comes directly out this English (Chinese) naturalistic tradition, first seen on those imported china plates and tea cups.
Speaking of tea drinking (a custom we also got from China), Did you know that tea is made from the dried leaves of camellias? So isn't it really the noble camellia we should all be thanking for the formation of America? (Remember the Boston tea party? Those were camellia leaves!). You might want to keep all this in mind and give your nearest camellia bush a toast the next time you enjoy a big glass of 'Southern' sweet tea. "Long live the Queen!"
Want to learn more about camellias?
If you're going to be in the Charleston area:
Annual Camellia Show at Citadel Mall, Saturday Jan. 24, 2009 (blooms galore!) sponsored by the Coastal Carolina Camellia Society, Bob Kline, 843-762-2963.
Middleton Plantation (mentioned above) has huge specimens and thousands of varieties. There is a free Camellia seminar on Jan. 24th at 1p.m.
Next door is:
Magnolia Plantation has a wonderful collection and hosts a Wintergarden Festival with speakers every Sat from mid Jan. to mid Feb. and camellia walks each day during that period.
Charleston Tea Plantation see camellia's grown like a crop for their leaves.
In the Savannah area:
Annual Camellia Show at Oglethorpe Mall Feb.2-8, 2009 (over 650 blooms displayed last year!) Savannah Camellia Club, Candi Lee, (912) 925-1058, clee765797@aol.com. (contact her to find out how to enter your own blossom).
UGA Bamboo Farm and Coastal Gardens is developing a major camellia garden with 250+ camellia varieties and species already there now. Their bloom exhibition is in Feb. Southeastern Camellia Society contact Bill Lutes at wlutes1@comcast.net for details. Or visit www.camelliaweb.com.
LeConte Woodsman Plantation has a big collection.
Closer to Home
Mr. Lewis Wright (age 93) is renowned as having the finest private collection of Camellias in all of Beaufort County. His garden of over 350 varieties will be open to the public on Saturday, January17th. His address is 418 Broad River Drive, which is the first paved road on the left after you pass Parris Island, if you're coming from Beaufort. Or the last paved road on the right before Parris Island if you're coming from Hilton Head. His wonderful garden opens from 10 am to 3 pm.