Volunteering for a Cause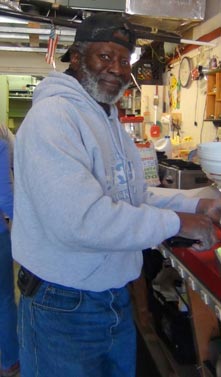 Editor's Note: This summer, Lowcountry Habitat for Humanity's Restore will celebrate 10 years in operation as the Beaufort area's "store that builds houses." LowCountry Habitat, the northern Beaufort County affiliate of Habitat for Humanity International, was founded here in 1990. The local ReStore started officially in 2004. To celebrate this 10th anniversary, the ReStore will hold an "Upcycled Art Auction" Saturday, August 23, at the Shed, 809 Paris Avenue in Port Royal. This is the site of the ReStore's former location. As a run-up to this event, Lowcountry Weekly will feature four articles (one per month) about different aspects of the ReStore. This second article is about the volunteers and the many varied jobs they do to help keep the ReStore running smoothly.
"Anything we get as a donation, if it's staged properly, will sell," affirms Kathy Paulik, known as "the decorator lady" around the Lowcountry Habitat ReStore. Paulik moved to the Beaufort area in 2004 with her husband Andy. "I had been attracted to Habitat before, but my volunteering up north was always for things that involved our kids," she explained.
She soon attended the local Habitat volunteer orientation program that gives all those interested in helping out, the required information about Habitat for Humanity's mission, the local affiliate, and the many jobs that need filling – in the office, on the construction jobsite, serving on committees or as part of the ReStore.
Paulik was attracted to the ReStore, then only a few months young, at that meeting. "I really liked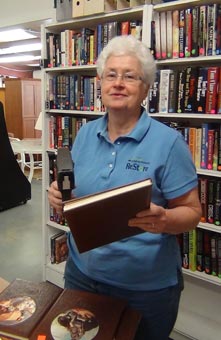 Jenny's (ReStore manager Jenny Drake) voice and enthusiasm. I signed up that first night to work on Thursday helping with sales and customer service. Soon, I started looking around at the merchandise and felt some things would look better in other places – this should get moved over here, another thing would look nicer over there. I had done some professional decorating before we moved, and because I'm so pushy the fellows listened to me and were willing to move those 700 pound sectionals around the room to improve the displays," Paulik laughed.
Now, Paulik works on Wednesdays, a kind of transition day between collecting new donations early in the week, and the hectic start of retail selling that marks Thursdays at the ReStore. She changed days because "the fellows" decided it would be better if they didn't have to move big pieces twice. Now the donations that come in are staged, arranged in groups soon after they arrive, with Paulik deciding how they all should fit.
"We have regular customers every week; many antique dealers come in frequently; several owners of rental property have furnished their places with furniture and decorations from the ReStore, as well as many, many homeowners around the area," Paulik remembers.
One motto of the ReStore is "Remodel, redecorate or restore without refinancing." Its many customers are able to do just that. The local ReStore provides another source of income for the Lowcountry Habitat affiliate – collecting gently used items of all sorts, except clothing: furniture, appliances, tools, decorative items, building supplies, books, art work, etc.– then selling these to the public. The money thus raised helps Habitat build houses alongside partner families who invest their own sweat equity labor and pay a mortgage to purchase their home.
The ReStore's corps of about 45 volunteers provide most of the man and woman power that keeps the store's wheels turning week in and week out. ReStore manager Jenny Drake says, "Volunteers are the lifeblood of our organization and are involved in all aspects of ReStore operations. They give tirelessly of their time and talent. They sustain us with their strength, energy and passion for the mission of Habitat for Humanity. We couldn't do what we do at the ReStore without our dedicated ambassadors, nor would we want to! I'm personally so grateful to be a part of a group of really cool people so generously dedicated to helping others. Volunteers enrich lives . . . they certainly have mine."
ReStore merchandise begins as items donated by individuals, retail businesses, builders, etc. The white, blue and green ReStore trucks make pick-ups all over northern Beaufort County every Tuesday and Wednesday. One volunteer who regularly works making collections on the truck is John Fahey, who moved to this area in 2006.
He was no stranger to volunteering, having helped manage Toys for Tots in Boston while working there in the financial services industry. "I was looking for volunteer opportunities here; I liked the mission of Habitat, then found out about the ReStore. I went out on the truck the first day of February, 2007 and right then I was hooked. I get 150% back for the work I give. I get to support the Habitat mission and learn my way around all the neighborhoods of this area- enjoying the beautiful nature here and seeing some unique places.
"There are challenges every week, so different from my career. When I started working on the truck, GPS was not in widespread use and cellphone service was spotty in many parts of the county. The truck had no lift, and all the volunteers get older every year. The sofas and appliances seem to keep getting heavier, but the volunteering is very much worth it," Fahey mused.
In addition to the myriad donations collected and sold by the ReStore, a steady line of porch and deck furniture is made "in house" by a regular team of volunteers working at the Habitat Warehouse. This is sold at the ReStore alo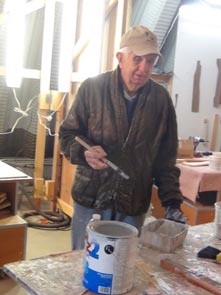 ngside the donated furniture, adding different well-crafted handbuilt chairs, benches, doors, tables and porch and yard swings to the mix available for sale. Most of these items have a Lowcountry feel to them and are quite popular.
This regular furniture-building crew includes Milt Lawrence, Bob Cummings Sr., Kevin Conroy, Charlotte Cook, and Robb Alexander. Others are Eileen Hull, Jerry Marlow and Ted Becker.
Lawrence started as a Habitat volunteer doing home building in 1999, when he moved south from Connecticut. He brought a hobby background building boats to this new endeavor and was later hired to be home construction supervisor. After he retired again, he still volunteered with Habitat, donating a large quantity of wood suitable for furniture building. "I thought, instead of selling it, why not use it for making things that could be sold at the ReStore as outdoor furniture," Lawrence asked. So this hand-built furniture project began four or five years ago with a porch swing decorated with a Palmetto tree outline on the seat back. Most of the furniture is painted in bright or subdued elegant colors.
Conroy, who did hobby woodworking before, says the volunteer work keeps him "off the street," and the others let him keep coming only because his wife Wendy bakes goodies for the crew's morning break.
Cook, who did drywall work in Alaska some years ago, was painting on the home building crew when she was recruited to join the furniture group about two years ago. "They've had the patience of Job with me. I had to learn all the tasks of making furniture," she says.
The crew agrees the satisfaction of helping raise money for home-building, as well as enjoying each other's companionship on the job, help keep them coming back. Lawrence added, "We're always looking for volunteers, especially ones with a background or familiarity with building, and contributions of good wood materials."
One specialty category of ReStore merchandise is the "book department." In 2007, Barbara Dittmer began to volunteer doing retail on Thursdays. "I knew I needed a volunteer job. John was already volunteering doing home construction. One day I was bored, and started sorting the books; we had only two shelves then. I just put the non-fiction into categories, and once that was done, we started getting more books, and more books! Jenny (Drake) gave me this room. We found more bookcases and had shelving built. The customers love having the books arranged. We have 7,000-8,000 available at any one time, with 800-1,200 new ones coming in a month. Now we are one of the largest used book stores in the area," Dittmer stated.
In addition to the books sold in direct retail at the store, an Amazon sales account to sell select ReStore books on-line, known as ReStore ReReads, was set up by volunteer Kate Joye. The book department also includes audio books on CD, vinyl records, DVD's and music CD's.
Dittmer, who worked as a high school math teacher near Pittsburgh, enjoys becoming a librarian in her volunteer job. "My favorite thing to do is open up boxes of books; it's like a treasure chest! I enjoy waiting on the customers, the regular ones become almost like family. When a customer asks me if we have a certain kind of book, I enjoy finding that for them," she related. In addition to the book department work, she still manages to do a weekly shift on the retail side.
Several other ReStore volunteers help out in the book department. Pat Fields started volunteering there about a year ago, shortly after retiring from teaching in the Beaufort area. She is another former math teacher who now helps Habitat by working with the ReStore's many books. "I love reading. I like contributing to Habitat's home building work, but I can't swing a hammer. I've enjoyed getting to know the other volunteers and the store's staff. A lot of our families are minorities. I'm an African American, and I'm glad I can help in this way," Fields stated.
Other book ladies are Susie Gombocz, Joyce Lovell and Lacey Bullard. Gombocz started at the store cash register in 2005, in 2009 was picked to serve on the Habitat Board of Directors. Her second term ends next year. Lovell started as a volunteer on the Habitat committee that selected client families. Bullard started in 2006 working on Friday morning. They all appreciate the feeling of friendship and "family" at the ReStore. "One of the best things about Habitat is there are so many different volunteer jobs here, volunteer opportunities," Bullard said.
David Irwin started volunteering a few months ago answering the ReStore phone on Tuesday mornings, but he spends summers in New England. "It takes many volunteers, doing many different jobs to help the store run and operate smoothly," he said.
Jeannie Brown volunteers as the ReStore's "art lady," helping sort, price and display the various
pieces of art that get donated. Her background was as an English teacher, then a college level teacher of darkroom technique and the history of photography. She owned a fine art photo gallery in Virginia before coming to this area. She volunteered at Habitat in Lexington, Va., and one day when visiting this ReStore, she saw art pieces scattered around, and asked Drake if she could organize them into a "gallery corner." Now, the Restore has a number of original and reproduction art works, from 19th century oils to modern prints. "I think having an area for art is important. We have some fine art, some art priced at $1 to $1,000, and it all sells eventually. Sometimes artists come in looking for frames to use with their own work, and we sell those too," Brown explained.
Jerry Fields works in the ReStore back shoproom, tinkering, testing lights and fixing fans and other things. Originally, he was a shopper at the ReStore, who says he started volunteering about a year ago. "I had a stroke and was laid up in the hospital; I lost a leg, but I wanted to keep going, do things to keep busy. It's nice coming around here to work with the staff, Scott (Hall) and Damon (Dunham). They know I'll keep coming around to work," the former heavy equipment operator says.
Wayne Richardson started volunteering at the ReStore a year ago when he finished all his "honey do" chores and wanted some more challenges. "I love tinkering. My wife says I can fix anything," says the retired mechanical engineer, who used to live in Aiken. "The work is for a good cause. It's nice that the store makes a profit and to see that money go into helping build houses for people. It's also good working with these people. There is a special group working here at the ReStore, Richardson states.
Richard Tichich has been involved with Habitat for Humanity for 15 years- Statesboro, Ga., Greenville, N.C., Waynesville, N.C., and now Beaufort. The former director of the school of art and design at East Carolina University says he used to be "an addictive house builder. I knew I couldn't keep doing that, so working part-time for the ReStore is a good compromise." He now helps the ReStore by doing specialty re-building- things such as antique phonographs, vintage sewing machines, old cameras- he repairs and restores to working condition so new buyers can enjoy them once again, and the ReStore can profit from the donation and the sale.
Persons wanting to join this group of volunteers should contact the Lowcountry Habitat office, 616 Parris Island Gateway, Port Royal, 29906. phone- 843 522-3500
Volunteer orientations are held the 2nd Saturdays of each month 10-11 am at the office.