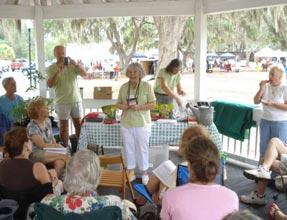 It's hard to believe that this will be the 6th year for that great summer gardening series, Lunch and Learn, which begins Saturday, April 16th in the Gazebo at the Port Royal Farmers' Market , and continues each Saturday until September 10th. This award winning series of classes, workshops and lectures is free to the public and no registration is required.
         The 2016 series will ably be kicked off by noted Landscape Designer, J. Weidner, who will show how to have color in a low-maintenance garden every season of the year. Master Gardeners and other professionals share their skills and knowledge to help the Lowcountry gardener meet the challenges of this hot and humid climate. Door prizes are abundant, and chances are good that you'll go home with a unique plant grown right here in Beaufort County.
         Stop at the Farmers' Market for a great lunch, and come to the Gazebo with a folding chair at noon, and share a little Lunching and Learning with people who love gardening as much as you do!
         The Master Gardeners also hold a Plant Clinic at the Farmers' Market from 9:00 until noon.  They will answer your questions, and identify plants, pests and diseases. The Plant Clinic and Lunch and Learn are brought to you by the volunteers of the Lowcountry Master Gardener Association.  

FULL SCHEDULE FOR LUNCH & LEARN 2016
The Gazebo at the Farmer's Market, Heritage Park, Port Royal
Saturday Classes begin at 12:00 noon and are free… just bring a folding chair
 
Date

Program

Speaker

Description

April 16

Low Maintenance Gardening

J. Weidner

Flowering Shrubs and Long Blooming Perennials

April 23

Ferns…..for Texture and Shape

Gary Baker

Explore these underused perennials.

April 30

Gardening for the Physically Challenged and Just Plain Lazy Gardener

Alice Massey

We were thunder-stormed out last year! Tips and tools to help you get up, down and around the garden with the least effort.

May 7

Lasagna and Raised Bed Gardens

Laura Lee Rose

The no till, no dig, easy method to garden.

May 14

Container and Small Pond Water Gardens

Sandra Educate

Hands down, the lowest maintenance gardens there are.  

May 21

Basics of Good Garden Design

Sheila Drouin

Start with good basics and create the garden of your dreams.  

May 28

Fruiting Trees and Shrubs

Pete Godbey

Beautiful and edible. What more could you ask of a plant?  

June 4

Bringing your Garden Indoors  

Victoria Bergesen

Invite your garden inside with natural décor.

June 11

Moon Gardens

Sandra Educate

Gardens are not just for the daytime. Get romantic!

June 18

Plant Propagation

Alice Massey

Free Plants!! What a concept!

June 25

A Rose Must Remain, With The Sun and The Rain…

Janet Bura & Becky Guinn

Yes, you can grow roses in the Lowcountry!

Without creating a toxic waste dump.

July 9

Why Plant Annuals?

Carol Guedalia

Garden elitists have given these garden staples a bad name. But they're wrong!

July 16

Tough as Nails,

Pretty as a Picture

Natalie Bowie

Think G.I. Jane. Just 'cause you're strong doesn't mean you're not gorgeous.

July 23

           Succulents and Cacti

Lora Quincy

One of the best answers for water-smart gardening.

July 30

Wreaths, again!  

Peggy Allard & Sandra Educate                            

Back by popular demand! A great workshop for making wreaths from found stuff.  

August 6

The Real Secret Life of Bees

David Arnal

An expert to give you the back story on these essential creatures.  

August 13

Discover Foliage Gardening

Joe Allard

Flowers aren't the only way to bring color into your garden.

August               20

Fall Vegetable Gardening

Laura Lee Rose

One of our most popular classes

August 27

Bulbs for the South

Sandra Educate

Forget about tulips. There are many beautiful

Bulbs that grow in the South

Sept 3

Getting Ready to Put Your Garden to Bed

Interactive

Come and share your ideas for winterizing your garden.

Sept 10

Keeping it Growing

Amanda McNulty

Our signature season end class. Put on your crazy hats and join TV's Amanda McNulty for our version of her popular TV show

.