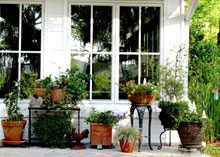 The title for this article was inspired by my friend, Alice Massey, a former contributor to this column who recently moved near Jacksonville, Florida. Many of us were the recipients of the pots she couldn't take with her. She is a passionate and inspired gardener, but her new temporary home is a rental. A real challenge for a passionate gardener. But she's up to it. She loves pots.
We call it container gardening now. In bygone days, 'container gardening' was found mostly in large estates whose owners had pockets deep enough to buy huge urns and planters.  And to pay a crew of gardeners to keep them fed, watered, and refreshed.  As lightweight containers began to replace heavy concrete and stone, we home gardeners eagerly embraced the concept.  
Unless you are a Zen gardener, less is notmore. Most of us follow the "more is not nearly enough" concept in our gardens, and this is definitely true for containers.  There's no excuse for a skimpy container. The perceived wisdom for containers is "Thriller, Filler, and Spiller." As with most perceived wisdom, this is subject to wide interpretation. But no matter what, when you think it's full enough, add some more.
Here in the Lowcountry, small containers require the kind of monitoring needed to make soft boiled eggs. Inattention will result in failure. In our hot summers, daily watering is almost essential.  However, if you do have small containers, grouping them together makes tending to them much easier and will make them read as a vignette rather than a garden with measles. It goes without saying that you need to group plants with like needs together. Sun lovers won't play well with shade lovers.  
We do love our hanging baskets down here, but they require some prep if they are to last through a Lowcountry summer. Because of  the cost of potting soil and its shipping weight, hanging baskets rarely come with enough soil. If you have a drip irrigation system for your pots and baskets, you're home free. If not, some prep when you get them home will save you a lot of time and effort. At the very least, add some good potting soil and tamp down well.  Preferably, soak some hydrogel crystals in a weak solution of soluble fertilizer and mix them in with new potting soil and repot the entire basket.  The crystals will re-hydrate each time you water, and you'll have to water less often.
Lined and soil filled metal baskets can be wired together to make a hanging plant ball.  Just poke in small plants all over the ball and in no time, you'll have an eye catching garden ornament to hang from a tree or shepherd's crook. If you're really ambitious and want to wow the neighbors, you can make a chain of them to hang from your balcony.   You could even make a snow man from large and small balls covered with white flowers.  An upturned basket makes a great body for a turtle, adding small clay pots for the head and feet and . . . I could go on and on. And probably would if there were space. 
Your small back yard needn't be a deterrent to planting a large tree that you love. You can plant trees in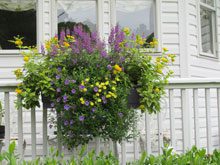 containers which, in the ground, would become too large for your yard. Containers 
restrict root growth, and therefore plant size. The container will act like a large bonsai. It would need pruning for size and shape, and every few years, you would probably need to root-prune and re-pot it. Small price to pay for having a favorite tree. One of the benefits of a pot is that you can move the container to follow the sun if your garden tends to be shady. Invest in a good, wheeled plant dolly to make it easier. Most fruiting and flowering trees need at least six hours of full sun.   
Many large containers are quite beautiful on their own merits.  Colorful glazed containers can brighten a spot where you can't dig and plant – like an area with buried wires or pipes. Even without flowers, they will be a focal point.
Try planting small evergreen trees or shrubs in large containers to flank your entrance, and then surround them with colorful annuals which can be replaced seasonally. You can bury small empty pots around the base of the evergreen to make replacing the flowers a snap.  
Be mindful that containers need good drainage! The lightweight composite or plastic ones will usually need more holes than the factory provided, so drill a few more before filling with soil.  
An exception to this rule is a container water garden. Undoubtedly the most maintenance free container garden there is. Once established, all you need do is top off with water and fertilize once in a while. You can find complete instructions on the Lowcountry Master Gardener website. http://lowcountrymga.org/wp-content/uploads/2018/11/Container-Water-Gardens.pdf
There is even a concept called "Pot et Fleur," a French garden idea for home décor in which a container holds both live plants and cut flowers. If the concept tickles your fancy, you can find several YouTube videos that describe how to construct them. Basically, it's a large container into which you put a smaller one to hold water for cut flowers, and then surround it with potting soil to hold live plants. The live plants make a permanent frame for a succession of cut flowers.  Clever, no?
Just remember that in addition to the more frequent watering requirements, containers also need more fertilizer. Even if the fertilizer label says "season long", monthly fertilizing during full growth is recommended. A few well placed, colorful containers can brighten an otherwise pretty dull area. And so what if your tender container plants evict your cars from the garage in winter?  They're worth it. Just ask Alice. 
Above: Scenes from Kathi McKinley's garden and Sandra Educate's deck.
.