The Beaufort Garden Club's Annual Garden-a-Day tour ushers in June.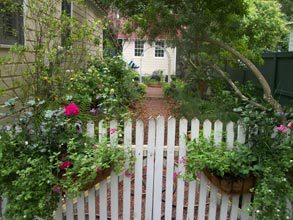 From June 2nd to June 6th, stroll through lovely gardens at the annual Garden-a-Day tour sponsored by the Beaufort Garden Club. This marks the 20th anniversary of this no-charge garden tour. To help with the event, area Master Gardeners act as docents in the gardens each day.
On Monday, June 2nd, there will be two cottage gardens to view. Both were part of the original garden tour 20 years ago and are located in The Point. – 606 North St. (The Point) and 702 Hamilton St. (The Point)
The garden for Tuesday, June 3rd, features about 5 acres of plants, trees, garden decor, and water features. Perhaps the pet turtle or the parrots that occupy the garden will pose for a photo op! So much to see. – 1 Blythewood Rd. (Lady's Island)
Wednesday, June 4th, returns to The Point with a delightful specimen garden. It will inspire your thinking about your own garden. – 315 Laurens St. (The Point)
On Thursday, June 5th, enjoy this small but mighty jewel of a garden and experience a guided tree walk provided by the Lady's Island Garden Club. This historic tree walk features trees throughout The Point. – 715 New St. (The Point)
Friday, June 6th, this garden is about 2 acres and the pride of a local landscaper. Throughout the garden perennial plants artfully mix with annuals.
– 38 Sundown Bend (off Broad River Blvd. in Burton)
Come rain or shine, the tour runs from 9:30-12:30, Monday through Friday. Remember, there is no charge for this event!