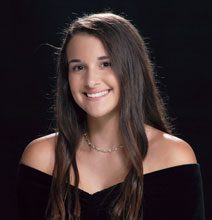 The Women's Associationof Hilton Head Island Youth Community Service Award Program has been the organization's most visible community effort since its inception. The Award began in 1980 as a way to recognize and encourage local students. Now in its 40thyear, the Program has recognized over 100 deserving students and awarded thousands of dollars.
This year WAHHI has recognized five area high school students for their community service by awarding one thousand dollars to each of them. Each student comes highly recommended by those who have taught, mentored or interacted with them on an ongoing basis.  Each individual has managed to balance academic achievement, participation in school clubs, and sports along with outstanding community service. The students are to be congratulated for their understanding of the value of service to others and their willingness to give back to their community.  
The 2020 Youth Community Service recipients are: Logan Bedenbaugh-Hilton Head High School (above), Kierstin Clark-Hilton Head Preparatory High School, Madison Frank-Hilton Head Preparatory High School, Laura Huggins-Hilton Head High School and Anna Sulek-Hilton Head Preparatory High School (all below, in order).