Local director Michael Givens talks with Mark Shaffer about his BIFF-nominated feature film, 'Angel Camouflaged.'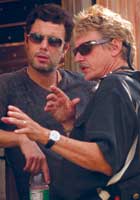 Synopsis: Scottie Ballantyne, a rock and roll singer, inherits a run-down bar in the salt marshes of South Carolina. In order to make 'Kokonuts' a success, she and her brother must battle against raging motorcycle clubs, gun toting gang bangers, a devilish loan shark and a deadly neighbor hell bent on sabotaging their efforts.
Director Michael Givens' rock drama, Angel Camouflaged comes to BIFF with a slew of awards collected along the festival circuit including two Best Actress trophies for Givens' neophyte star. The role of Scottie looks to be a breakout performance for South African- born rocker, Dilana Smith, the pierced and tattooed runner up on the CBS reality show, Rock Star: Supernova. Co-star James Brolin has also been honored as Best Supporting Actor and Givens for Best Cinematography.
The Beaufort native has a lengthy resume as a Cinematographer and Director, working with Hollywood heavyweights like Ridley Scott and shooting hundreds of commercials for giant corporations all over the world. These days Givens is concentrating on his feature film career, hoping to do a little less globe-trotting by producing projects like this one closer to home. His next film will shoot in North Carolina. We spoke to him on the way home form a location scout.
Rock 'n Roll Fantasy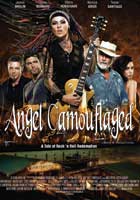 Mark Shaffer: How long did it take to make this film from concept to final cut?
Michael Givens: Only about two years. Normally it takes about five. We got pretty lucky with this one.
MS: This is kind of a throw back rock n' roll movie complete with bar brawls and bad guys.
MG: It's a rock and roll drama about a star who's on her way up and then falls on hard times. She drops out of the business and goes to live in the desert. Her brother – who's also her manager – tries to draw her back in. Subsequently, an aunt (Patty Smyth) passes away and leaves them a little bar in South Carolina. He wants her to come out and help run it. She refuses and then circumstances intervene and she's forced to make a go of it. She eventually learns how to get back on her own two feet and get her career back. In between they have to deal with all sorts of things including some real bad guys.
MS: There is no shortage of music in the film.
MG: Dilana's got nine of her own songs, The Marshall Tucker band has two, Kurtis Blow has two, Patty Smyth has two and there are a lot of small bands doing the music in the background.
MS: Let's talk about Dilana. Most people would remember her as the singer with the tattoos and the wild hair on Rock Star: Supernova, a few years back. Did you write with her in mind?
MG: That's exactly what I did. I saw her on the show and thought she was amazing – incredibly talented. The whole family watched it and we used to call in and vote for her until the end when we actually
didn't want her to win. We didn't think they deserved her.
(Laughter)
Apparently a lot of other people did, because she had about ten million followers on that show and came in second. I read everything I could about her and listened to all of her music and decided I had to write this story around her personality. It's not about her – it's not her story – but the personality is definitely hers. I wrote a treatment, sent it to her agent and she read it and said she'd love to do it.
We basically did the same thing with The Marshall Tucker Band. I've been a fan since 1973 and what a treat to have them in the movie.
MS: That's one of the cool things about independent film. But it also means you're wearing a lot of different hats. You wrote it, shot it, directed it – you're even in it at one point. Seems like you're doing everything but Craft Services, or did you do the cooking as well?
MG: (Laughs) Well, that's what you've got to do on an "indy," man.
MS: Of course, a big part of independent film is getting noticed on the festival circuit and so far Angel Camouflaged has been pretty successful coming in to BIFF.
MG: It's doing very well. I'm very, very proud of it. I might go back do some things a little quicker if I could. It was accepted at Cannes as a rough cut and we couldn't get our finished cut to them until after the festival started, so it wasn't in the running to win anything. But at least it was shown there. I'm proud of it. It's been a lot of fun.
MS: This is always a learning process so you're ahead of the curve for the next one.
MG: Oh man, I've been in the business for thirty-something years and I learn something every day. One thing I've learned on this one is to get opinions from the distribution people when you're writing the script, that way you can really aim it at the market.
Homemade Movies
MS: You shot some of it in California, but most of it near Charleston and Folly Beach.
MG: The restaurant we transformed into a bar is on Bowen's Island and it worked out like a dream. South Carolina's such a great place to work.
MS: This will be a hot topic at BIFF and in legislative circles this year, the near complete evaporation of a once vibrant film industry in the state. In fact, as you know, people in the business will tell you that the Sandford administration did everything but post "Hollywood Keep Out" signs at the borders.
MG: The folks in the legislature just need a little bit of education about this. If they're looking for something that puts money in the coffers of the state government, film is not the thing. But if they're looking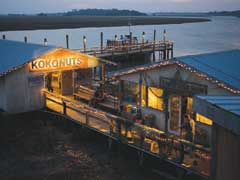 for something that will put money in the pockets of their constituents and build jobs, film is exactly what they're looking for. It costs the state a little and some people argue that it's corporate welfare, but it creates jobs. North Carolina and Georgia are feeding people and the folks in South Carolina just can't see beyond their own treasury.
Understand that if a movie's going to spend ten million dollars in a state, they're going to leave it in the pockets of the people who live there. They buy lumber at local lumberyards to build sets. People rent out locations. Then there's food and hotels and houses.
MS: One of our local film professionals says he still gets Christmas cards from a hardware store where he dropped over three hundred grand during one production.
MG: I'm just coming back from scouting locations for the next film in North Carolina. This film has to be shot there because I'm adapting a book for this one. But North Carolina really makes it [financially attractive] to shoot there.
MS: We understand Governor Haley just filmed a guest shot on Army Wives, so maybe the conversation on resurrecting the film business will heat up.
MG: I'd sure like to have a sit down with her and talk to her about the advantages of it. And I'm happy to tell the story, warts and all.
MS: You're a Beaufort native. You live here, your family's here. How much fun would it be to get up and go to the set here?
MG: Are you kidding? When we shot Angel Camouflaged in Folly Beach the idea that I was just ninety minutes from home was unheard of. I shoot in Russia a lot, South Africa, all over Europe, Southeast Asia and Hollywood, but the very idea of being able to shoot close to home (long pause)…what a pleasure that would be.
MS: How does our modest little film festival fit in with the rest?
MG: Well, after last year I don't think of it as "little" any more. I've been to a lot of film festivals and most of them are all about making money. This one isn't. I'm not opposed to people making money, but let's do something to help the industry, as well. BIFF is really honest and cares about the product. Action on Film in Los Angeles is the same way. It's like a family. Once you get there it's so comfortable for the filmmakers that they can't wait to come back. I think Beaufort's really got that.
Angel Camouflaged screens at BIFF Friday, February 18th at 6:45pm. Get more information at www.michaelgivens.com
and get film festival updates on our FilmFix Blog. Mark Shaffer's email is backyardtourist@gmail.com