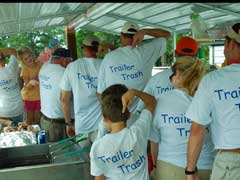 We love the smell of barbecue in the morning….
S.C. Barbeque Association aims to make competition fair, consistent.
High on the Hog
There's going to be a cracker element wherever beer, fire and hog parts spend the night together. But this is not "Redneck Heart of Darkness: Part 2." There is a lot of subtlety and sophistication in competitive barbecue.
"Generally, all barbecue is good. Some is better than others," according to Bronson Smith, chief marshal for the S.C. Barbeque Association. (Yes, the association spells barbecue with a "Q" and the single letter is used as an abbreviation for the whole experience.)
The SCBA was formed about 5 years ago and gained traction when Walter Edgar, history professor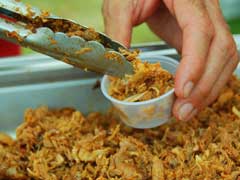 emeritus at the University of South Carolina, joined and featured it on his weekly public radio program.
Edgar contends the first barbecue was one of the few happy results of New World colonial cultural collision, when Spanish pigs met the Native American practice of slow cooking with smoke, on what is now Parris Island. The word "barbecue" evolved from the Caribe Indian word "barbacoa" (cooking on a spit), according to Edgar.
SCBA President Lake High said barbecue is the very pinnacle of the slow food movement. "It's the opposite of fast food. Nothing is slower than barbecue," High says.
The SCBA's mission is to promote South Carolina barbecue and to introduce fairness, consistency and objectivity to the traditional chaos of barbecue judging. More on that later.
Big butts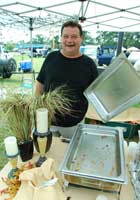 Brentt Toole of Bluffton is complaining about his butts. They're too big, he says. We hesitate to point out that Toole lost his girlish figure long ago and it ain't coming back.
But that's not the butt he's talking about anyway. He's talking about Boston butt, which is a cut of pork closer to the hog's shoulder than its rear end, which would be in the ham neighborhood.
It is early September 4th afternoon in Beaufort at the "Bands, Brews & BBQ" event, a fundraiser for the Friends of Caroline Hospice. The barbecue has been judged and the scores tallied but not yet announced. The cookers have turned their attention to the public, which spans the spectrum from barbecue aficionado to casual-beer-drinker-looking-for-lunch.
But the cookers are still nervously thinking about those scores. There are 14 entrants in this first SCBA-sanctioned competition of the season. Each pays an entry fee and receives Boston butts and racks of ribs on Friday. All the meat comes from the same supplier and is provided at the same time so all the competitors have an even start.
"I got some big ol' butts," Toole says. The norm is 5 to 7 pounds but "these were closer to 10," he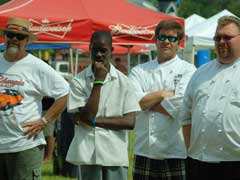 says.
The big butts pose a problem with tenderness, which will take more cooking time, and flavor, which will take more cooking time and perhaps a deep sauce injection.
"I injected the hell out of them," Toole says.
Blind justice
I want Toole to win because I like him and because I've been eating his Palm Key Catering barbecue at the Bluffton Farmers' Market for more than a year and I like it, too. But I'm also a judge and I've got to be objective. And there's no way I could influence this decision anyway.
More than 40 judges are sequestered inside a conference room at the Hilton Garden Inn at Beaufort Town Center. Lake High is the event marshal. Apparently his duties consist of telling bad jokes, periodically blasting an air horn and presiding over the "grazing table," where barbecue samples go to die.
(High: "I dropped a rib on the floor one time and picked it up and ate it. And it was better. It had more texture.")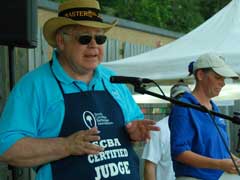 The air horn gives cookers 10-minute and 2-minute warnings, then signals the appointed time to deliver samples to the receiving table. The samples arrive unadorned in a plain, white, plastic foam take-out box and are assigned a number before a "runner" brings them into the judge's chambers.
There are four actual judging tables, each with six certified judges and a table captain. There also are two "novice" tables, each with six rookie judges and a senior judge serving as table captain and explaining the intricacies of barbecue tasting.
I'm with the novice judges. We've all completed the SCBA seminar and must sit through four events to become certified. We taste and judge, but our scores don't count. Ordinarily, judges shouldn't talk amongst themselves, but we initiates are encouraged to do so under the guidance of the senior judge. We also discuss scores in an attempt to arrive at some consensus that the veteran judges achieve through experience.
"We have very few rules. That's on purpose. It's supposed to be fun," Smith says. "Sometimes a new judge is the best judge. Cookers are the worst judges, they all think their barbecue is the best."
Judging criteria are: appearance (3 points), aroma (2 points), tenderness/texture (5 points), taste (5 points) and overall impression (2 points) for a possible total of 17 points.
Breakfast Q
The judges assemble at 9 a.m. and start tasting at 10 a.m. You've got to like barbecue for breakfast if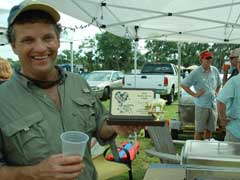 you want to sit in judgment.
We are provided with scorecards and judging sheets, bottled water and white bread. The latter two are from the Piggly Wiggly, with the smiling pig logo, which seems oddly appropriate.
The scorecard is poster board with a grid printed on it; and I realize it's also my plate.
The white box is passed around the table and everybody takes a big sniff ("Breathe in, not out," Smith says). Then the box goes around again and everybody takes a small portion and plops it onto one of the numbered squares on the scorecard.
Smith explains what to look for:
"Fat should cook out. If you see a big glob of fat, that's a minus," he says.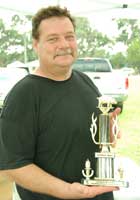 The dark, crispy outside layer is called "bark" and "has the most flavor," Smith says.
"Look for smoke rings," he says. The first two hours of cooking impart a dark, smoky layer as much as half an inch into the meat.
"The first two hours, you get all the flavor you're going to get," cooking after that is all about tenderness, Smith says.
A numerical score is assigned for each criteria and totaled, then the totals are averaged for the sample's overall score. And a particular judge may not actually taste the eventual winner.
Judges usually taste just five or six samples. "After that, your taste buds are just shot," Smith says.
Also, five or six small portions eventually turns into about a quarter pound of barbecue.
The winner is…
Brentt Toole, for all his professed dissatisfaction with the big hunks of meat, takes first place in the Boston butt category in his first SCBA-sanctioned competition.
He wins by less than two-tenths of a point, edging Doug Quinn of the No Pig Left Behind team by 0.166 points.
And all the margins are razor thin. Toole is separated from the 14th-place cooker by just 1.083 points.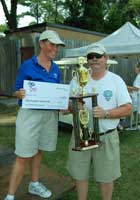 No Pig Left Behind also is edged out of first place (by 0.085 points) in the rib category by George King and the Can't Quit Smokin team.
But the two second-place finishes are enough to secure the big Grand Champion trophy for Quinn's team from Goose Creek.
As for Toole, he'll probably be at his customary spot near The Dispensary at the Bluffton Farmers' Market on Thursday. Look for the trophy and a barbecue sandwich.
Winners of the Bands, Brews & BBQ competition were:
Butts – first, Palm Key Catering; second, No Pig Left Behind; third, Kickin Butt BBQ.
Ribs – first, Can't Quit Smokin; No Pig Left Behind; third, Smokey Chef.
Anything but Pork – Some-R Swine.
People's Choice – Louis & Clark Exhibition.
On the web:
For more information about the S.C. Barbeque Association, visit www.scbarbeque.com
For more information about the Friends of Carolina Hospice, visit www.friendsofcarolinehospice.com
For more information about Palm Key Catering, visit www.palmkeycatering.com or call Brentt Toole at (843) 301-2501.
Richard Brooks is a reporter for Bluffton Today, where this story first appeared. Some of the photos here were taken by Mark Shaffer, Lowcountry Weekly's orginal Backyard Tourist.