Another great LowCountry Habitat project is in the works… and there's jazz involved.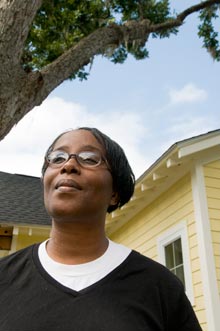 Women. The word conjures many images, surely, but for me it's just a big question mark. They might as well wear a tight green outfit with a symbol in the middle like Frank Gorshin's Riddler on the 1960's Batman television program. I'll never understand them, but I won't give up trying either. All anatomy aside, there is something inherently different in the genetic and chemical makeup of men and women, just as God intended.
That's not to say they should not be desired as companions, sought out as leaders, or appreciated as the last bastions of civility and virtue. There's currently a commercial on ESPN radio – of all places – touting women as the world's most underutilized resource. While that may be true in Afghanistan, it's certainly not in my little world.
When I'm sick, the doctor I avoid going to until the very last minute is a woman. When our taxes are due and I vomit at the thought of having to do math, the accountant I call is a woman. When my teeth need cleaning or, more likely, filling, the dentist I call is a woman. I would think it's time for a woman president, and I don't care if her name is Hillary or Condi. We could even bring the not-quite-dead Margaret Thatcher across the pond and let her run things for a while.
I'm not sure what having all these various professional women in my life means, if anything. Just a few weeks ago I heard someone say that all men can't be John Wayne, that sometimes there's a Cary Grant in the crowd. While I am neither (I prefer William Holden if you're going with that generation), I am proud to not be an archaic ideologue in need of assurance or domination over the fairer sex.
This attitude even extends into my work life. At LowCountry Habitat, our Executive Director – my boss – is a woman. It's not the first time that has happened, as it's been the rule more than the exception. I've only had one male boss out of four possibilities in the last ten years. Even the Habitat ReStore manager is a woman, and runs the store better than any male retail manager I've ever known.
In fact, when I first took this job, it wasn't because of or despite working with women. It was because of another woman – my wife. I had been working in Savannah, and my wife was pregnant with our first child. It didn't take long for the hours away from home to add up, and I would have felt guilty leaving her at home with a baby while I was busy running through the drive-through at Krispy Kreme on Abercorn at 6 pm.
I took the job at Habitat because it was closer to home and allowed me to work with people in Beaufort. I had very little experience with the Habitat concept. I'd helped build a Habitat house at Clemson, but I did less hammering and more drinking coffee than anything else. Like most, I knew Jimmy Carter had something to do with it, but my political tastes did not allow me to investigate any further.
What I soon found out – and here's where the women thing comes into play again – was that it was a local organization that used local money to build affordable housing for local people. Most of those "local people" turned out to be single women with multiple children. Circumstance, questionable decisions, even sometimes just plain bad luck had left them in untenable living situations. But here's the catch – none of the homeowners I met were people who sat around pointing fingers and sighing about their lot in life. The women, especially, were up-by-the-bootstraps people who had taken it upon themselves to improve their situations, working through months of sweat equity and homeowners' classes while also working full-time jobs and caring for children. These were no shrinking violets.
There's probably a line by Proust or Kafka or Kierkegaard about learning more about yourself by learning about others, though I can't quote it off-hand. Sometimes you "grow" into a job, your thinking evolves, and a period of enlightenment overtakes your stoic nature. That happened with me and Habitat.
I met Tracye Blue, the homeowner of the first Women Build house on Prince Street, at her house dedication shortly after I was hired in 2008. I will never erase the image of her being handed her house keys only to fumble and fidget trying to open the front door. The key was good, the lock worked, she just couldn't see what she was doing because there was a flood of salty tears shadowing her vision. Her daughter – who would soon be headed to college – helped her steady herself and unlock the door to a brighter future.
Tracye, like others, pays back the cost of her home through zero-interest, low monthly mortgage payments. This money, slowly collected over time, goes back into building more houses. It's a pretty good concept – even for non-Economics majors like me. It's a reward for responsibility, not a blind handout. It's a small sum for a small home, but it's safe, stable, and allows for flexibility and improvement.
Roberta Peterson is a Habitat homeowner who finally had a bedroom to herself, and was able to live without the fear of having bullets sprayed into her kitchen floor from the apartment below, something that occurred before she had the courage and conviction to apply for a house. April Redd has found the financial flexibility that comes from Habitat beneficial in helping pay for her daughter's tuition in college. Mary Weber, in addition to being my son's preschool teacher, is a survivor of Hurricane Katrina and first-time homeowner who enjoys living just a block or two from work.
I could go on with success stories (I am available for dinner parties – especially those involving barbecue), but I have to mention the women I've been privileged to work with lately – the women who were so inspired by their experience with the first Women Build that they decided, despite economic uncertainty, to try it again.
We have a committee of women who are once again raising funds to build a home on St. Helena for a Habitat homeowner. While we certainly have other worthwhile and similar projects coming up (including a Veterans Build, funded by and for a local armed services veteran), this "for women by women" project is fun, and every bit as inspiring as the first. I'm not the only one who feels that way.
"What excites me this time around is working with a team of women who enthusiastically stay the course, ever optimistic that we'll meet our goal," said committee member Susie Gombocz.
The latest effort to meet those fundraising goals includes a "Jazz on the Lawn" event at Habersham on Sunday, November 13th at 4:00 pm. The jazz and blues band is Blue Mudd, featuring Vic Varner, Delbert Felix and friends. If you know these guys, you'll know to line up early for the $20 tickets. It may not be a chance for total altruism, but it should be a good time to listen to good local music outside on a lazy Sunday afternoon while also helping the Women Build project.
If you like music, or you like the idea of contributing to responsible homeownership at a time when statistics are skewing the other way, or even if you just like women – this is a good opportunity. I'm sure, given the creativity of the Women Build Committee, there will be others as well.
You see, it's my job to keep these houses funded, to keep meeting and helping people like Tracye, Roberta, April and Mary. After all, they've already helped me turn from someone who simply works at a job into someone who believes wholeheartedly in the mission of his job. Thanks to them, as well as my accountant, my physician, my dentist and my wife, my life as a man is a little bit better.
Ryan Copeland is the Resource Development Director for LowCountry Habitat for Humanity.