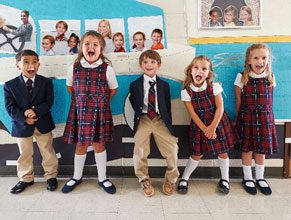 Administrators, faculty, staff and parents at Holy Trinity Classical Christian School are celebrating after the school's first annual fundraising campaign ended in a blaze of glory. The 2015-2016 campaign, appropriately named Love to Learn, Learn to Love, raised more than $650,000 to continue the school's mission of providing a classical Christian education to elementary, middle, and high school students.  
            The annual fund campaign is the tangible manifestation of a decision made by the Holy Trinity Board of Trustees some time ago to support families by adopting a faith-based tuition policy. While other private schools typically rely on tuition to cover a significant percentage of their operating costs, Holy Trinity chose another path. Under its 40/60 model, tuition covers 60 percent of all operating costs, and donors contribute the remaining 40 percent to help sustain the school's viability. The term "faith-based" refers to the board's belief that God will provide to enable the school to continue doing His work.
            In late May, after receiving a $100,000 dispursement from the Farrell & Elizabeth Runyan endowment, the school was still shy of reaching their goal of $651,500. This caused the leadership of the school to press into God through prayer. And then an unexpected gift of $50,000 arrived the last week of school, pushing the grand total to $652,768.84.
            "We at Holy Trinity continue to be amazed at how God continues to provide for our school," says the Rev. Chad E. Lawrence, the school headmaster. "We are so grateful for the support we have received from generous individuals, many of whom don't even have a child in the school."
            The school has recently commenced their 2016-2017 annual fund campaign with an even larger goal of $791,600 to accommodate for the school's rapid growth. Holy Trinity's 275 students in grades preschool through nine study Latin, the great works of poetry, literature, art, music, history, phonics and mathematics, all within the framework of a Christ-centered learning environment.
            "When we started the school, I knew it would have an impact on the students," Headmaster Lawrence adds. "What I didn't realize is how it would change entire families. This is precisely why it's so important that we keep tuition within reach for those who passionately desire a classical Christian education for their children."