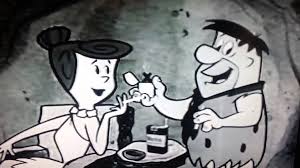 "Seeing a murder on television can help work off one's antagonisms. And if you haven't any antagonisms, the commercials will give you some." – Alfred Hitchcock
Move over, Al, you'€™ve got company. TV commercials have wormed their way into my existence as a frustrating and infuriating tangle of assaultive leeches. Having grown up in the 1950'€™s I well remember the comparatively innocent, low tech string of goofball spots that peppered network television. Master mid twentieth century historian William Manchester helps take us back then in The Glory and the Dream. In this two-volume set that runs over 1,600 pages, he noted that Americans have born our share of troubles and had plenty to complain about and the 50's were no exception:
"Even without a war or scandal to divide the country, living was a strain. Every other adult complained of trouble getting to sleep. It was a greater problem for women than men, worse for the unmarried than the married, greatest for the divorced and the widowed. The main cause given was 'nervous tension.' Sedatives had not achieved wide acceptance; most insomniacs tossed and turned. Among other complaints, one American in three said his feet hurt, one in five had trouble hearing, two in seven were worried about being overweight."
Zooming in on 1963, Manchester remarked:
"That year was the high point of the Ajax White Knight and White Tornado ('Cleans like a white tornado!'€) commercials . . . Piel'€™s beer was presenting the Return of Bert and Harry [Piel, cartoon characters]. Maxwell House instant coffee offered a Cup and a Half. The Chevrolet commercial had a car riding on the water of a Venice canal, and Hertz commercials were dropping people into convertibles.
Well we don'€™t live in a random universe (who says my philosophy courses went to waste, eh?) so it'€™s possible to link those old-timey complaints with product solutions. Let'€™s see if I have this straight: at its core life often centered around internal wrestling matches with nervous tension. We took up jogging perhaps as one remedy and in overdoing it got sore feet. People yelled at us to shut up and stop bellyaching about it, which eroded our hearing. Feeling guilty about causing such a ruckus, we turned to overeating and drinking lots of beer to wash it all down. We woke up sleepy, grumpy and stressed for time and so slurped a yummy cup of instant coffee.
Sure some of that might be a stretch but at least I can make some sense out of the 50's, having born witness to it, granting that I was but a squirt. Today, the world of television commercials is a whole different game, though Will Rogers had it right decades before then – and now – when he noted that "Advertising is the art of convincing people to spend money they don't have for something they don't need."
One of my serious gripes today is that commercials are either: misleading, boring, dull witted, insulting, mindlessly repetitive, confusing, oblique, or simply too bleepity blinking LOUD! Perhaps a few examples will illustrate.
Undressed is better. This misleading "€˜ad" is printed on the bottle, in this case Kraft Sweet Balsamic Vinaigrette. The label says it is "sweet and complex"€ and insists that despite the "new look" it has the "€œsame great taste." Hmm, great taste, eh? One sample followed by another to confirm it and the bottle went down the drain. The dreadful taste conjured a slimy mixture of vinegar, garlic, artificial sweetener and paint thinner. With a dash of weed killer. Is this false advertising or just one fussy customer? Can't be the latter given my love of balsamic, sweets and, for that matter, salad . . . right?
More lessons learned:
But we'€™re not too sick to watch the news. Ever notice how the evening news programs on TV are littered with commercials for drugs, typically prescription products? Apparently many if not most of us suffer from psoriasis, bad cholesterol, RA, ED, diabetes, leaky bladders, bad teeth, depression, back pain, etc. Note that many of these drugs are expensive and no doubt offer pharmaceutical companies huge profit margins. If bombardment by these folks is giving you a headache or upset stomach, not to worry. Plenty more ads come along regularly to treat that, too. Pass the Advil and Pepto!
What happened to real people? This one has been bugging me for years. It reached a low point when I noticed that – according to a small disclaimer at the bottom of the screen -€" the nice slightly older looking woman talking about Medicare represented an "€œactor portrayal."€ Seriously? Given that over 50 million Americans are on Medicare, it'€™s astounding that the advertiser couldn't or didn'€™t care to find someone actually on Medicare to make the pitch. Jeepers, they could have called me or any of my friends. ("€œI'€™m only in my 60'€™s, got a nice long life ahead . . . "€)
Are cars better nowadays or just sleek looking and fun to drive? As Rogers suggested decades ago, "Let advertisers spend the same amount of money improving their product that they do on advertising and they wouldn't have to advertise it." Given that the average cost of a new car or truck these days is $33.5K, this is obviously a very serious purchase. Why, then, do car commercials tell us practically nothing about performance characteristics or safety features? Are we really expected to spend over thirty three grand based on mostly sizzle when our family'€™s well-being (not to mention financial health) is on the line? Cars sure look swell as fancy leaf blowers on a country road in the fall with a pretty person behind the wheel, but how about a word or two about gas mileage, turning ratios, acceleration and braking, how well the headlights illuminate, and so forth? Can we save the pretty people for other outlets? Like . . .
Sandals, home of the beautiful. It has dawned on me after a jillion viewings that vacationing at Sandals resorts makes you young and beautiful. Good deal, unless they charge extra for that. Maybe a thousand bucks per decade, such a bargain! Or, maybe as in Medicare ads they just couldn'€™t find real people and just had to resort to actors or (could it be?) models.
We need more ads for sleep aids. A recent U.K. study showed that people who slept six hours a night had waistlines 1.2 inches larger that those who were able to get nine hours a night. Those who slept less also displayed lower HDL (good cholesterol). Or, one can just turn to the countless products that promise weight loss. Can they somehow, though, manage to make their standard meals actually look edible (ditch the yucky plastic pizza) or would that constitute false advertising?
One last thing about all these products and the incessant efforts to induce us to buy them . . . it must be working. U.S. consumer credit card debt recently reached (gulp) 1.02 trillion dollars. This level passed the previous record set in April 2008 when the U.S. sank into the worst of the great recession.
But I guess if we just go to Sandals, don't take medicine we'€™re allergic to (thanks, Trulicity!) and sleep a lot everything will be just fine.

Can we fast-forward these ads now? Please? I'€™ve got a salad to dress.