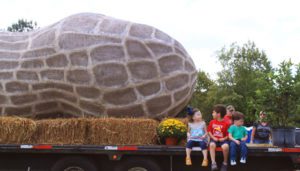 The Historic Bluffton Foundation & The Heritage Peanut Company present the 10th Annual Bluffton Boiled Peanut Festival! This year's festival will be held on Saturday, September 11th from 12:00-6:00 pm on Common Ground at the Heyward House, located at 70 Boundary Street Bluffton, South Carolina. The festival will feature all you can eat boiled peanuts, live music by the Horan Brothers Band, a boiled peanut cook-off, a boiled peanut eating contest, Little Ms. Peanut and Little Mr. Goober Competition as well as The World's Largest Boiled Peanut on display for all to see!
The highlight of the event, the boiled peanut cook-off, brings some of the finest boiled peanut purveyors in the Lowcountry together for the coveted title of "Best Nuts in Town". The 2021 categories include traditional, spicy and creative. Our distinguished panel of judges will award the top prize to each category as well as top overall.
Admission is $15.00 per adult, which includes all you can eat peanuts, and children 10 and under are free. Beer, wine, soft drinks, and water will be available for purchase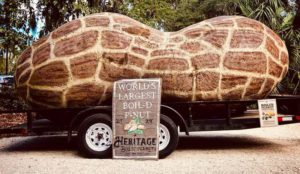 and food trucks will also be on site. Admission can be purchased the day of or in advance at https://heritagepeanuts.com/festival.
All contest entries must be received by September 3rd, 2021. Entry forms are available at https://heritagepeanuts.com/festival
About the boiled peanut – The Boiled Peanut Festival began in 2011 as a celebration of the South Carolina state snack, the boiled peanut. Now designated as a superfood, the boiled peanut is recognized as one of the healthiest forms of plant-based protein and is rich in antioxidants. The process of boiling peanuts has a significant effect on their phytochemical composition, increasing their total flavonoid and polyphenol count, which are better known as antioxidants. Boiled peanuts have nearly four times the number of antioxidants found in other kinds of peanuts. These naturally occurring nutrients have been linked to numerous health benefits, including cancer prevention, reduced inflammation and prevention against cardiovascular diseases. In addition, boiled peanuts are a great source of vitamins like niacin which supports the digestive system, skin, and nerves as well as protection against Alzheimer's disease and cognitive decline. Boiled peanuts contain an abundance of minerals like magnesium that supports healthy muscle function and phosphorous which helps convert food into energy.