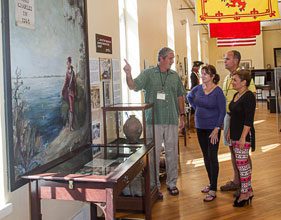 Beaufort History Museum (BHM) is offering Docent classes to train volunteers who lead Museum tours and serve as community liaisons. In the classes, directed by Docent Educator Lorrie Burleyknoles, participants learn how Beaufort shaped America from the early European settlements to current times.
 Docent training classes are scheduled:
Tuesday November 5 – 9 am – 3 pm
Thursday, November 7  – 9 am – 3pm
Wednesday, November 13 – 9 am – 2 pm
To earn Docent certification all classes must be completed. Box lunches will be included at all sessions.  Continuing education will be available with advanced Docent Training quarterly with special speakers and interesting field trips.
To become a BHM Docent candidates must:
Be a BHM member in good standing
Commit to a minimum of three, three-hour volunteer sessions per month for 12 months
Have an interest in sharing Beaufort's history to a diverse group of guests who visit the Museum
Classes will be held at BHM located in the historic Arsenal at 713 Craven Street. Space in the class is limited and those interested in attending the session are encouraged to register early. For more information on the Docent program, or other volunteer opportunities with the Museum, contact Lorrie Burleyknoles at burleyknoles@gmail.com, Tom Kelley at thomas.j.kelley750@gmail.com, or call 559-362-3237.
Beaufort History Museum has evolved to focus specifically on the history of the Beaufort District. It strives to manage and display artifacts and documents held by the City of Beaufort, telling the compelling stories of this area from the early 16thCentury to the modern era.   
The Museum's hours of operation are 10:00 am  – 4:00 pm Monday – Saturday. Docents are on duty to provide information and conduct tours. Admission is $7.00 per visitor ($6.00 for Seniors). Children and active military are admitted free of charge. Please visit www.beauforthistorymuseum.comor BHM's Facebook page for updates and news from the Museum.