By Mary Ellen Thompson
There it was, sitting on a table at USCB during the Saturday evening reception for the Pat Conroy Literary Festival. I'm sure we all saw it; many of us thought it was something on exhibit, a sculpture of a desktop. Upon further inspection, it was clearly Pat Conroy's desktop. It had a solid, enduring look, as if fashioned from wax.
First and foremost on display was Pat's trademark yellow legal pad with a pen resting, just waiting to be picked up. There were inkwells, a ceramic pen cup, a leather journal, and books. It was lovely, expertly crafted, and looked like it might be going to find a permanent home at the Pat Conroy Literary Center (PCLC).
            The evening was busy; Cassandra King was signing books, people were milling and socializing, visiting the inside grits bar, the outside wine bar, noshing on passed hors d'oeuvres, and congratulating each other on how wonderful the Literary Festival had been. So I don't think anyone gave undue attention to the desk, until that moment when the wonderful people who had made and transported it here from Charleston, advised us that it was a cake! A birthday cake for Pat. A replica of his desk. Amazing! Everyone suddenly lined up to take photos and ask questions. It was a big cake and, yes – every part of it was edible. As it turned out, these folks had also made last year's shrimp boat cake, the "Miss Lila," for the Pat Conroy at 70 Festival.
From Charleston, the cast of characters and their contributions:
Lynn Smith: Design/art/painting/and spokesperson for this article
Martha Feil: baking/carving/icing/covering with fondant in the humid south
Bryan Smith: making chocolate molds, engineering ("how this is not going to fall apart or cave in"), encouragement, shopping for tools and ingredients at all hours without complaining, fondant rolling
Fred Feil: support, encouragement, taste-testing, carrying, driving cake safely, body-guarding cake
Maggie Smith: fondant and chocolate work, creative input, construction, photographs
Wesley Smith: chocolate work, creative input, comic relief, construction
How long did it take, and how many people?
"It took 6 people about 70 hours total. (20 baking, 12 carving and base frosting, 12 hours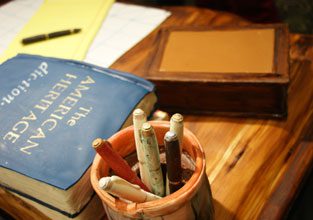 chocolate work and detail work before assembly, 12 hours covering, 12 hours painting, about an hour of last minute detail and an hour for final assembly.)"
How was the cake transported?
"For stability and because it was so heavy, we transported it in as flat a state as possible. Finished pieces were secured on sheet pans and transported on a flat surface. It was much like moving a fragile desktop."
What was your inspiration?
"The initial idea was to present a piece that would mean something to everyone in the room. The main inspiration was a blogspot by Pat Conroy in which he wrote about his desk. He had meaningful books, including his sister's book of poetry and including his wife Cassandra King's books. It touched me that he displayed gifts from people who were close to him. It was my impression that if you made it to the desk, it meant you resided close to his heart."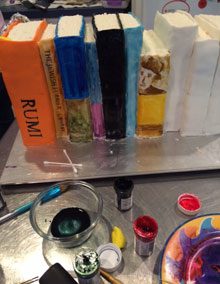 "Great Love" was Pat Conroy signature phrase. What can you tell us about your own affection for the author?
"I have been a Pat Conroy fan since I was 18 and first read Prince of Tides. The running family joke is that no matter how many times he offered his hand and attention, I couldn't stammer out anything coherent. It seemed to me that I needed to be able to say 'thank you' with something I was good at doing. I wanted to say more than just, 'I really like your books.' My family loves me, so this is what we do. That is the simplest answer."
Both this cake and the shrimp boat cake were gifts from your heart; I understand you're not in the cake-making business.
"Business implies that one is making a living, which is something that is very hard to do with cake! Cake can become art for a few hours or minutes, but when it's all over, this is still just food. It becomes a memory. It isn't something anyone has to move around or dust or find a place to store. We did it because we love the generous spirit of this Conroy family and the friends and writers who surround them. To see them smile and do a double take? Now, THAT was much more fun than selling cake ever was. Sometimes art needs to be just art without a dollar value attached. It's just out there for people to enjoy. With cake, that's all you can do. If you leave it too long, it's no good. You have no choice but to enjoy it."
What was your (collective) greatest joy, and frustration, in making the cake?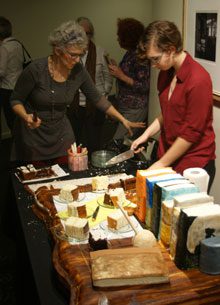 "The frustrations are always the what ifs and the anxiety dreams. Everyone else in the family is pretty calm. There comes a point where I sit back and wonder what will happen next. You just have to be determined to lean in, which I can do. It was hard not being able to see things in pictures and know what they were, but I figured there was a lesson in that. Book by book—just paint book by book.
"The greatest joys were working together with our family and being able to step back and say, 'this is really cool!' Seeing people truly enjoy themselves when they realized the "desk" was cake was a lot of fun. Seeing Cassandra King's face when she walked over to the cake on the Moonrise side… Seeing joy emerge is always the best part."
Any last comment you'd like to make?
"We enjoyed being a part of the festival, and we are all happy to see art and education continue. We hope people continue to contribute both their time and their money to the Pat Conroy Literary Center."
Thank you, Lynn Smith and family, for the information, the cake, and the "Great Love" in which you presented it to the Pat Conroy community at large.