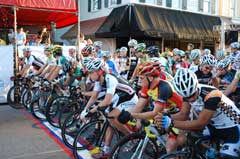 Professionals prepare for 4th Annual Beaufort Memorial Cycling Classic
While gearing up for the upcoming Beaufort Memorial Cycling Classic, event organizer Donald "DG" Veitch took some time to discuss the "art" (or is it the science?) of cycling for both pros and wannabes.
The April 27 criterium event will see nearly 200 male and female professional cyclists representing  the best of the best in American Criterium Racing, pedaling at speeds up to 40 miles an hour through downtown Beaufort, pursuing a
piece of the $15,000 purse.
"The Beaufort Memorial Cycling Classic truly celebrates active, healthy living in the Lowcountry," said  Rick Toomey, President & CEO of Beaufort Memorial Hospital, the race's title sponsor since its inception three years ago.
While most of us will never be healthy and active enough to be professional bicycle racers ourselves, we can learn a lot from the training regimens of the pros and the joys of cycling for local aficionados.
According to Veitch, cyclists' wheels keep on turnin', as they train year-round. Any time off is minimal  – 3 weeks, tops – but they definitely don't stop riding when the season ends. As racing season draws closer, they'll log their mileage and ride six days a week for 40-80 miles at a time, depending on their training regimen.
Most cyclists at the higher levels use coaches, or they have team coaches and managers who put together their training schedules. "Training in order to reach a peak level at race time is a real science," said Veitch. "You log a lot of base mileage to build endurance, but you don't want to get to the point where you tear your body down. You need recovery time."
Beaufort Memorial Cycling Classic racers will be tuning their bodies for this event and others, he said, increasing the intensity of their work-outs a few weeks before events so they can sustain a higher effort for longer periods of time. They'll add in more interval work. Some will be paced behind a scooter or motorcycle to replicate race speed.
"The Beaufort Memorial Cycling Classic course is 1K long. The men will be doing 75 laps at full effort for an hour and a half," he said. "They need to get their bodies to where they can be at that (optimum) level for that amount of time."
Diet is also essential to competitive cyclists. Though they get to eat plenty of carbs, balance is essential and junk food is a no-no. "They all take care of themselves," Veitch noted. "You can't eat (fast food) and ride a bicycle. They all think about what they eat."
Perhaps not surprisingly, at this level of work, cyclists really get to know their own bodies and know what works for them. Some teams offer their members physiologists and nutritionists to make suggestions for optimizing diet plans.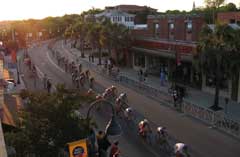 Cycling may be many things, but it's no way to get rich, according to Veitch, who said most cyclists hope to win the prize money to cover the travel expenses of going to races.
If you'd like to get into cycling, Veitch recommends joining a local club. To race you must join USA Cycling where you'll start as a "Category 5" and move up as you accumulate points for competing in races that take place all over the country.
"As you get better, eventually people take notice of you," he said. "It helps to have a team, too. To get to be on one, you have to go through a whole process. Some people are outgoing and go out and write letters, looking for consideration by a team."
Veitch has been into cycling since he was 16, and one of the things he likes best is the sense of commonality and camaraderie. Social, economic and other differences all get left behind when riders take to their wheels.
"You can be riding along, and next to you is a brain surgeon having an amazing conversation with a plumber. There are no boundaries when you're riding your bike. It's an enormously diverse society."
While he likes riding with his buddies, Veitch's favorite riding companion is his wife.
"She's as addicted as I am," he said with a laugh. "You get attached to the friendships you have and the exertion it takes. It becomes an endorphin issue. It's a real high when you're putting that much energy into something."
(Sidebar with race details)
Beaufort Memorial Cycling Classic
The Beaufort Memorial Cycling Classic will roll through downtown Beaufort on Tuesday evening, April 27. The event will kick off with a kids' race at 5 p.m. on Bay Street and will be followed by the women's, then men's professional races.
Pick your place on the .6-mile course, which begins and ends at the clock on Bay Street and runs on Scott, Craven, and Newcastle Streets. All races are free and open to the public.
The event is managed by Lowcountry Velo, with corporate support from Beaufort Memorial Hospital and additional support from local sponsors, dozens of volunteers, and cycling clubs. For more details about the Beaufort Memorial Cycling Classic and a full schedule of events, visit www.lowcountrycyclist.com.