Looking for a bracing way to start the new year? Have we got an event for you!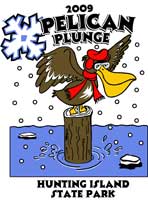 Friends of Hunting Island State Park (FOHI) and the Beaufort Exchange Club, in cooperation with Hunting Island State Park, are presenting the Lowcountry version of the ever-popular Polar Bear Plunges with the 1st Annual Pelican Plunge at Hunting Island State Park Lighthouse (North) Beach.
The inaugural Pelican Plunge will see bathers of all ages jumping into the surf at 1 pm on January 1st, 2009. Donations will be raised on behalf of the Child Abuse Prevention Association (CAPA) of Beaufort through sponsorship of individual and team swim participants. There will be hot beverages to welcome those intrepid souls out of the surf, commemorative t-shirts will be available for sale and will be awarded to participants raising $60 or more in sponsorships.
Hunting Island State Park is South Carolina's most popular park with more than 1.5 million visitors a year. "This is all about fun," said Park Superintendent Jeff Atkins, "and we hope to introduce even more people to our beautiful park and all it has to offer while participating in such a worthy cause. We are really looking forward to this first annual Pelican Plunge, and we hope to be doing this for many years to come."
"The Friends are involved in so many activities and improvements at the park that when Jeff and his staff came to us with this idea, we signed up immediately," said Friends president, Bonnie Wright. "Hunting Island is a treasure right in our backyard and here's a new and exciting reason to enjoy it all year round."
Bathers and their cheering sections will gather for registration at the picnic area near the lighthouse beginning at 12 noon. Pelican Plungers are invited to get friends and family to donate so as to entice as many as possible to take the plunge. When the clock strikes 1 pm it will be time for the first swim of 2009, however brief that may be!
Early registration is preferred but not required. For more information about the Pelican Plunge, registration forms, and donation forms visit: http://www.friends-of-hunting-island-sc.org . For questions or to speak to the event Co-chairs, phone Tom Valentino 379-4895 or Angel Flewelling 525-0102.