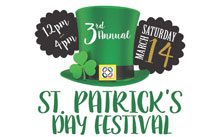 Beaufort Town Center will host the 3rd Annual St. Patrick's Day Festival benefiting the South Carolina Victim Assistance Network (SCVAN). The event is free and open to the public and will take place on Saturday, March 14 from Noon – 4 pm. 
Area restaurants and food trucks will be selling food and drinks and there will be live entertainment. This family-fun event will also have activities for children of all ages, and those young at heart. New to the Festival this year will be an adult and kids family-friendly costume contest. 1 adult (age 13+) and 1 child (age 12 and under) will win a great Pot O' Gold Prize Pack.
In addition to a family-fun community event, SCVAN will be onsite to accept donations and share their mission. Katie Coleman, SCVAN's Executive Staff Attorney comments, "We're excited to be named beneficiary for the 3rd annual St. Patrick's Day Festival. SCVAN's mission is to be the voice for all victims of crime and those who serve them. Since opening our Lowcountry office one year ago, we have had the opportunity to provide even more victims with no-cost legal representation. We are grateful for the warm welcome we have received from the Beaufort community and eager to continue efforts with our new partners to assist victims and survivors."
Jenny Sanborn with 303 Associates comments, "Beaufort Town Center has several new businesses and this festival gives the opportunity for them to interact with the community and share their information, in addition to being able to support a Beaufort Town Center non-profit. We also recently completed the adaptive reuse of the former K-Mart space and it's great to get people into Beaufort Town Center to show them what's available. The Festival continues to grow year after year, and this will be our best yet."
Additional information on this event and events in the future can be found on the Beaufort Town Center website (www.beauforttowncenter.com) and Facebook Page (www.facebook.com/BeaufortTownCenter).