The 2007 Festival of Trees to benefit Friends of Caroline Hospice is just around the corner. The festival will begin on Monday, December 3rd, with the opening reception sponsored by honorary chairmen Dr. Karen Eller and Mr. Joseph Floyd.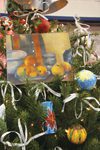 The festival will be open to the public from Tuesday, December 4 through Saturday, December 8.
The festival volunteers have been hard at work but still need community support to make this the best festival yet! A limited number of trees are available for sponsorship. To sponsor a tree, please contact Courtney Worrell at 379.9544, via email at ctw@303associates.com or visit the Festival website at www.festivaloftreesbeaufort.com to download a sponsorship form.
The Festival of Trees has added a new twist to their annual silent auction – HOT SPOTS! This is a perfect way to get the local businesses involved in the festival. A HOT SPOT is a business that is participating in the silent auction by displaying items for bid in their respective store prior to the festival. Stop by any of these businesses from November 23 until December 1st at noon to bid on these special items. At the Opening Reception, which is open to the public, bidding will resume and end. From a sequined gold cocktail dress to his and hers sports watches by Seiko the gift ideas are endless this Holiday season, all by going shopping at the following businesses:
Art and Soul, Modern Jewelers, The Gallery, Bay street Trading Company, Indigo Gallery, Rossignol's, M, Rhett Gallery, Divine Shoes, Bay Street Gallery, Best of Everything, The Coastal Cottage, The Oyster Cay Collection, Branches, Kathe and Company Design, Four Winds Gallery, Beaufort Clothing Company, Bay Street Jewelers, Grace and Glory, the Spirit of Old Beaufort, Beaufort Book store, Laura Tucker Designs.
Also, the Festival of Trees announces four locations for sale of opening reception tickets: Cravings by the Bay, Four Winds Gallery, The Gallery, and Bay Street Trading Co., Modern Jewelers. Hot Spot static cling decals will designate these and other silent auction spots throughout town.
The Festival of Trees is the largest fundraiser for Friends of Caroline Hospice, a United Way agency. Proceeds from the event go directly to the Friends of Caroline Hospice which is a local nonprofit organization dedicated to providing free care for terminally ill individuals and their families in the final stages of their lives.