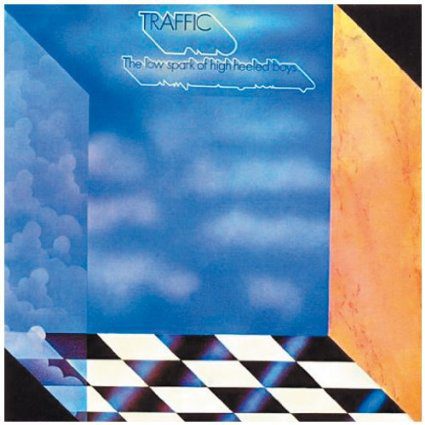 The calendar clanged 65 for me last month. Good grief.  Medicare age. Senior, officially (sort of). Interestingly, nearly half of 64-year olds don't consider themselves as senior citizens, according to U.S. News and World Report. Seems that they are managing their expectations—and age labels–and as a group are split as to whether they are really that old yet.
Thinking back to the "good old days," I began listening anew to some favorite music from my early twenties (translation: youngster years). High on the list were Grammy winners Carlos Santana and Steve Winwood.
 
The old gang and I lucked out and got to attend a Winwood concert while scruffy students at Syracuse University.   The show lit up the War Memorial in October of 1971. Richard Nixon was president then, the country in turmoil. But the prices sound good in hindsight… 40 cent gas, 8 cent postage stamps and—get this—ladies' two piece knit suits sold for about ten bucks. Frazzled after a long week, one could don that cool suit or a spiffy $8 floral print tunic and take in a movie for only another $1.50.
The only turmoil in the concert hall that night swirled around the sights and sounds of thousands of pulsating young people (hey, man, we certainly didn't consider ourselves "youngsters" back then) hollering for Winwood's great band, Traffic.
The first track of his that I listened to recently was "Gimme Some Lovin'," a titanic early hit of Winwood's when he played with The Spencer Davis Group. Those of us in Beaufort County have a special attachment to that great song as it was featured in the terrific 1983 movie filmed in downtown Beaufort, "The Big Chill."   The song also brightened 1980's "The Blues Brothers" (which still cracks me up) among many other films. Just to put this whole youngster/senior business in some perspective, Steve Winwood was all of eighteen when his band first released "Gimme Some Lovin'" and fifteen when he joined the group.
Just a bit further into my listening to the "very best" of Steve Winwood, I re-encountered "The Low Spark of High Heeled Boys." This song was released in November of 1971, so Traffic may or may not have played it during that Syracuse concert the month before. The internet is fantastic, but evidently not granular enough to answer this question for sure.  
"Low Spark…" was a wonderful title to linger over on a beautiful lowcountry day. We've all seen low sparks, but probably have personal recollections. Ever notice the sparks emanating from the wheels of old trains as they brake into a station? Or the sparks spraying from underneath a thundering truck on a highway after dark? How about a young child holding a sparkler on the Fourth of July? Low sparks, hmm. The song title actually comes from a book inscription written by character actor Michael J. Pollard (think 1967's "Bonnie and Clyde") which referred, according to the song's co-writer, drummer Jim Capaldi, to a "strong undercurrent at the street level."
(Fade to senior scratching head.)   Doesn't just about everything real, distinctive and memorable happen at the street level? Like a great sermon, lecture or concert. A terrific grass roots campaign. The Revolutionary War, for heaven sake, not to mention corner parlors where you grab great New York City pizza. My 65th birthday unfolded like that, at the street level. The sparks were all right there on the ground floor. They started with Jane's first words that morning, a gently reassuring "happy birthday." She has said that to me dozens of times over the years, but this time it sounded especially good, down to earth. I knew that she really meant it with love.
A few hours later a florist delivered a spectacular flower arrangement, a birthday gift from our son Jack Walter. He knows I love pretty flowers, and these were glorious. Normally I keep my expectations fairly low, a defense mechanism of sorts to avoid a stream of disappointments. But I also try to stay optimistic and look on the bright side of things, so my life is a perpetual balancing act. Frankly it can be exhausting, you know? Maybe it's also a great way to exercise. If not every muscle at least the one that also passes for a functioning brain.
So the dichotomy that occurred to me during this fall musing seemed to center on savoring the joys of street level sparks while managing expectations. Just how much is it reasonable to expect on the "street," literal or metaphorical?   A rapid series of birthday events—on the day itself and shortly after—left me on the fence but leaning toward the wide, arcing world of expectations exceeded.
I say on the fence because some things were disappointing. A pain relief cream that my podiatrist prescribed for my arthritic ankle didn't seem to do much of anything except smell bad. The Mexican restaurant we tried for lunch in Charleston was awful… (El Loco Dorado or something like that), with a dreary buffet accompanied by even drearier menu items, servers and decor.
But more events down on the street were pleasant surprises. The woman who cut my hair was cheerful, skilled and rather unusually articulate, it seemed. Well, it turned out that she's a published novelist. How about them apples. Dinner out on my actual birthday was delicious, well served and comfortable. A few days later I went sea trout fishing, often productive for me. Despite a perfect outgoing tide and good live bait I failed to elicit a single strike until shortly after muttering "one more cast." On that cast, something hefty crashed the bait and I struggled with it on medium-light tackle. A fellow nearby saw my bent pole and came over to inspect. I finally wrenched the fish to the surface, he took pictures on his phone, and lo and behold, it was my first garfish. Four feet long if it was an inch, we agreed. My heart stuttered as we released it. I let out an appreciative "whoaaaa baby, that was a kick! Good gar-ly Miss Mar-ly!"
Back on my old timer couch with a heating pad and fuzzy blanket the next day I read about an incredible Belgian woman, Andrée de Jongh, who set up an extremely risky underground railroad (The Comet Line) centered in Brussels in 1941. She and her compatriots eventually helped get some 700 downed Allied airmen, about half of them American, back to their bases in England. Which were only about a two hour drive, in fact, from Mr. Winwood's hometown of Birmingham. Hmm, small sparky world. And how old was this hugely heroic woman, a petite commercial artist, nicknamed "Little Cyclone?" She was all of twenty-four in 1941… and lived to ninety.
Whoa again, I sure wasn't expecting that either.   She and her network of incredibly brave resistance workers ground out more low sparks in (not quite) two years' work before her capture by the Nazis than the rest of us will likely manage in a lifetime. Clearly they also had high expectations. Let that be a lesson to me as I creak toward that next birthday.