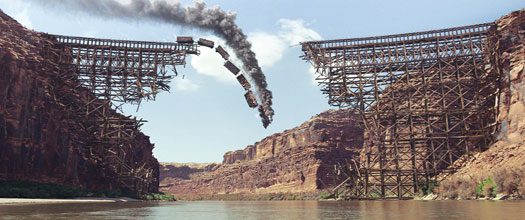 "He went to record stores and jazz clubs and sat alone in the back. What they saw: a scrawny Chinese guy, barely any meat on his bones, five-foot-seven on a good day, Coke-bottle glasses, cheap clothes, an underfed accountant's underfed accountant loser brother. They saw a man who couldn't dance. They heard a man who couldn't sing. But in his leaky water-balloon heart, Sam could sing and dance." – Lisa Ko, "Pat + Sam," The Best American Short Stories 2016, Mariner Books
Yes, I've been reading more fiction lately. And, evidently, living science fiction. Who knew, even recently, that the wheels were ditching our collective bus and that our societal train was leaving its well-worn tracks? Who knew we had finally, officially, gone off the rails?
There are at least three lines of evidence that suggest we have indeed. First, trains. The recent crash in Hoboken, the train barreling into the station at super speed, left a young woman dead and 114 injured—the equivalent of two entire NFL teams. Evidently the failure to invoke positive train control (PTC) was an underlying factor, but the real root cause was more likely steeped in ambivalence over the risk/reward ratios associated with taking necessary precautions. None of New Jersey Transit's over 400 locomotives were equipped with PTC software.
This crash, alas, was not isolated. Far from it. While Europeans probably take efficient train systems for granted, we Americans cannot. Just to site a few recent examples, a Tri-Rail passenger train collided with a garbage truck on January 16. Twenty-two people were injured. On March 7, an Altamont Corridor Express train derailed after striking a downed tree near Sunol, California. Fourteen people were injured, four of them seriously. On June 3, again this year, a crude oil train derailed and caught fire at Mosier, Oregon resulting in the town being evacuated. On and on goes the train crash list in this country.
Next line, this unending election cycle nightmare. As Gail Collins wrote recently in the New York Times, "… You certainly can't argue that Donald Trump doesn't represent change. We're just hoping people realize it's the kind of change you get if you decide to remove the trash by driving a bulldozer through the kitchen." This Trump characterization reminds me of Stan Lee's comic book villains, perhaps we can call Don Kaptain Krude.
In the first presidential debate, though Mrs. Clinton threw in multiple interruptions of her own, Trump interrupted her and moderator Lester Holt a staggering 55 times.   Characteristically, though, he continued to claim victory afterward while the scientific data suggested quite the reverse. He lost. Came in second place. A similar pattern followed the nauseating second debate in St. Louis, which was preceded by the release of an Access Hollywood video nearly universally viewed as loathsome. As Jonah Goldberg wrote in National Review, "… this video is not an aberration. It is not a special circumstance. It's him. There's no pivot in him. There's no "presidential" switch to flip. He's Donald Trump all the way down. And he will humiliate and debase his defenders so long as they feel the need to defend this indefensible man."
Those like Rudy Giuliani who remain in Trump's corner come hell or high water (please hold for Matthew) should know better. They have by now labeled themselves as data-immune: nothing their candidate does can sway them. Nothing. Consider the many media outlets who rarely if ever endorse presidential candidacies but now do so. USA Today, nestled under heaven knows how many hotel and motel doors each morning, broke a longstanding tradition and nailed the case against the Kaptain. While not endorsing Clinton, they neatly summarized the overwhelming case against Trump.
It's worth lingering on their laundry list of disqualifications. Trump is erratic, ill-equipped to be commander in chief, traffics in prejudice, and brings a checkered business career to the table . . . complete with a fraudulent university bearing his name and a trail of unpaid contractors.
He is a chronic, pathological liar. In USA Today's words, "he isn't leveling with the American people." They also claim—and who has really disputed this—that Trump speaks recklessly and has coarsened the national dialogue. Although Hillary Clinton dissembles and comes with enough baggage to derail a train, Trump "is in a league of his own when it comes to the quality and quantity of his misstatements." There is data to support this, reliably researched and supplied by independent Politifact.
Kap'n Krude, in short, has hijacked not merely common decency, but also honest stands on principle and the Republican Party itself. Who would have thought one sniffling gasbag of doom, a predatory buffoon, could have done so? As the mega-columnist Tom Friedman noted, "Electing such a man would be insanity." Guess what, Tom. There is no such man aside from Trump himself.
And third . . . Matt. I refuse to dignify this monster hurricane with the honorable name Matthew. This super storm ramped up to Cat 4 status in a blink and then ravaged Haiti, the poorest nation in our hemisphere. It blasted through the Bahamas, then raked our southeast coast. My lovely home, Beaufort County, took a hard right cross to the jaw. A real beating and yes, it certainly could have been a far worse train wreck. Nice to remember that, though isn't it nearly always true? "Cudda bin woise."
I write this as an evacuee, holed up in Augusta. Our accommodations are lovely, yes, but it's stressful waiting to know how well your beautiful house held up. Having degrees in psychology offers me only a trivial degree of immunity against dislocations like this one via Matt. My leaky water-balloon heart was just as wrenched as anyone else's.
Enter the good eggs and no, not just the Benedictine ones that came up to us with fresh orange juice from Marriott room service.   I'm talking about the countless dedicated citizens who help make any crisis easier to digest. Depending on one's political sensitivities, one can seek solace from a wide range of exceptional columnists and journalists. I like Al Hunt at Bloomberg and Maureen Dowd at the NYT among many others. Some gravitate left toward MSNBC, some list rightward via Fox. One size never fits all, at least without Walter Cronkite around anymore.
Speaking of Uncle Walter . . . you may remember Edward R. Murrow, one of the founding fathers of CBS. He earned his journalistic stripes the hard way, broadcasting the Blitz from London during WWII. My community had a few Murrows of its own during Matt: hearty and selfless, generous souls who hunkered down through the terrible storm and provided real time e-mail bulletins. With photos. And we had folks going door to door photographing damaged homes so all could get an initial sense of what they'd confront upon their homecoming. Much more from a dedicated, resourceful team.
I can't leave out the many lovely folks we met in Augusta, refugees from Hilton Head, Charleston, you name it. And a lovely local woman, Audrey, a GA state employee, who offered me solace at a restaurant bar while Jane and my dinner was being readied. All for one, one for all, Matt be damned.
Along with this infernal election. As for trains, we can all look to the Solace and Support Express. All aboard!