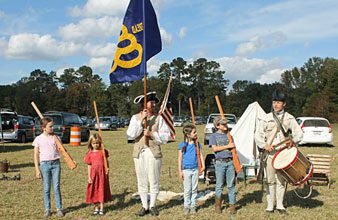 Santa Elena History Center is putting the "FIELD" in "Field Trip!" This year the Lowcountry Fair with Historical Flair is opening a day early, exclusively for a Student History Day, to allow local students the opportunity to experience the unique culture and heritage of South Carolina first hand on the grounds of Cotton Hall Plantation.  
Although the annual Lowcountry Fair and Marsh Tacky races are open to the general public on Saturday, November 3 from 11am – 5pm,  students and their teachers are invited to take a field trip to see living history re-enactments, weaponry demonstrations, and selected other educational (and fun!) activities on Friday, November 2, from 10am to 2pm. The richness of our Spanish, French, English , Scottish and Native American history will be the focus of the day's activities, along with exploring the plantation colonial sugar mill, walking through the petting zoo, and learning about Marsh Tacky horses. 
As students meet and greet the gentle marsh tacky horses, they will learn about South Carolina's
heritage horse, an activity led by the Carolina Marsh Tacky Association. Other organizations on display include National Park Service with their Junior Ranger program, Coastal Discovery Museum with information about nature and their own Marsh Tacky "Comet," Lowcountry Raptors, Morris Center for Heritage, Mitchelville, and more.
An on-site picnic area is perfect for packing a lunch to enjoy on the plantation, and there is plenty of bus parking within the 50 acre field. Many local schools have already signed up, but the more the merrier! Check with your child's school to make sure he or she is taking part in this unique opportunity.  Home school students are also welcome.  
For Friday and registered school groups only, a nominal $3 admission is charged per attendee for History Day admission. Schools can register at www.santa-elena.org
The public is invited for the full Lowcountry Fair with Historical Flair on Saturday, which will include all these activities and much more – including the only Marsh Tacky horse races of 2018!
Cotton Hall Plantation is located off Route 17 in Northern Beaufort County. Please email Megan Morris at the Santa Elena History Center for more information at mmorris@santa-elena.org.