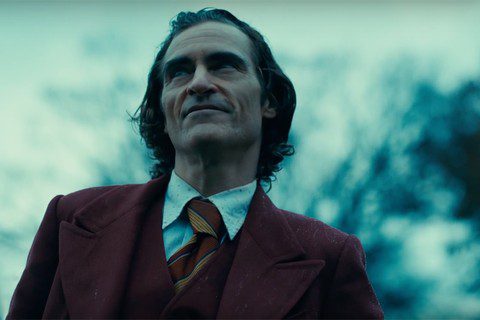 "But I don't want to go among mad people," said Alice.
"Oh, you can't help that," said the cat. "We're all mad here."  
– Lewis Carroll
I have just been to the movies eighteen times in three weeks.  In an extremely cushy theater near the harbor, right above a lovely Italian restaurant with the best servers, Tuscan Kitchen. The box score is: Joker, eleven times, Judy, four, Ad Astra, three. Collectively, they may help bend your mind about fundamental subjects. Poverty, mental illness, substance and child abuse, enduring talent, love and more. Damn near the whole enchilada.  
From worst to best movie of these three, full disclosure. There is one very fine film here and two titans. Starting with the very fine, Ad Astra shamelessly features the still impossibly good looking Brad Pitt. It turns out that apart from all the tabloid coverage he receives, Pitt is still a first tier actor. In Ad Astra, he plays Major Roy McBride, stoic son of the interplanetary genius and now mad scientist, Dr. Clifford McBride, cannily played as always by consummate professional Tommy Lee Jones.
Ad Astra self-consciously targets audiences who love special space effects, as we journey via commercial aircraft (seriously) from Earth to the Moon to Mars and then Neptune. Vague and slightly hokey interplanetary energy surges are destroying electrical grids and causing cascading chaos. Dr. McBride is somehow alone in a space station on the U.S.'s most distant outpost. He may have caused the surges and dumped his crew out the garbage chute to float in space forever. He lurks in his station, strangled by his obsessive dreams of finding intelligent life in the cosmos. Aside from Earth, we presume, though even here it often feels like a crap shoot.
"Just the facts, ma'am" Pitt appears in nearly every frame, only approaching tears once as he reflects on his complex relationship with this father and finally realizes, after many years apart, that he may in fact be alive. What is not so alive and kicking is the plot, which is bone thin. And yet with no humor or political twists to season the film, the cinematography is superb. Viewing the "blue marble," Earth, from space is breathtaking. Come along for this alone. OK, plus today's Paul Newman, Mr. Pitt (without the salad dressing). By the way, I once sat next to Newman in a college playhouse where his wife Joanne Woodward was performing and haven't fully recovered since. That was 40 years ago.
By my fourth viewing of director Rupert Goold's Judy, tears started running down my cheeks and didn't stop until the end of the film. It seems to have taken that long for me to have processed the astounding job that Rene Zellweger did in transforming herself into an aging, pathetic yet still stunning performer who had a yellow brick road's worth of debris thrown at her in life, along with five husbands. From her earliest days at MGM with Mickey Rooney and the rest of the children under contract, she was forced to swallow amphetamines to wake up after little sleep and then barbiturates to slow her down at night. It was an addiction that she carried to her last days.
Ms. Zellweger overcame every challenge and opportunity that came with morphing into Garland. She looked like her, complete with hair, failing teeth, 60's wardrobe and mannerisms. She got bone thin, evidently on the Zone Diet. But her crowning achievement in Judy is her singing. Zellweger's gorgeous voice stands on its own, though of course she is impersonatingthatvoice, that stage presence, that ability of Miss Garland to put the audience in her ruby slippers. When Judy, late in her career making a London comeback, falters and slumps over half way through singing "Over the Rainbow," my heart heaved, my chest jumped.  
The rest of Judy, from plot to supporting actors to the filming and directing, are near flawless. This one is a masterpiece. Save the popcorn for Ad Astra.
And don't bring too many snacks to my favorite by a neck of the three new films, Joker. This one fell into several of my wheelhouses and sometime soft spots. My background in social psychology and urban sociology, my time in hospitals and with the disadvantaged and mentally ill, my previous life as a struggling student just trying to get my bearings in a scary city in the 70's, Chicago.
Joker revolves around the life of one Arthur Fleck, as in fleck of dust, which is how he feels in an unforgiving, filthy world. Arthur is played magnificently by Hollywood oddball and mega-talent Joaquin Phoenix, who seemingly crawls beneath Fleck's skin to capture his tormented soul. To underscore Fleck's squalidly housed, rat and garbage infested existence with his ailing mother in a flophouse, director Todd Phillips sets Joker in early 1980s New York (Gotham City). Close to where I was born.  Add to this a hauntingly dark screenplay, street scenes, and pounding dark orchestral phrases.  
The supporting cast is wonderful, including Zazie Beetz as Sophie Dumond and four foot Leigh Gill as Gary. But it is Phoenix who strips one's soul. Begin with his having lost 52 pounds quickly to achieve a near Auschwitz look. His character Arthur begins the movie as an aspiring if pitiable standup comic. We watch Arthur putting his face paint on for a clown gig with a blue tear running down his right cheek.  His fellow workers at Ha-Ha's clown depot are dourly mixed by casting director Shayna Markowitz. (And here, I should issue a spoiler alert.) We have an English midget (Gill) who witnesses Arthur stab traitor Randall (played by Glenn Fleshler) at home in full color. See if you clutch your pearls like I did when tiny traumatized Gary tries to escape unharmed.
Phoenix does the nearly impossible by sliding from a marginal man suffering from crippling, uncontrolled laughter. His Pseudobulbar Affect (PBA) comes and goes with no apparent pattern, much like Arthur's entire life. With no guardrails, he skids all the way to hell. Crowds of furious rioters against "the rich" in the city don clown masks in an indirect sop to Arthur's decline into madness and violence.
By this time, Arthur has strangled his loving mother Penny (Frances Conroy) to death in her hospital bed. He has shot three young men to death who beat him on a subway. He's lost his pretty lady friend from down the hall, his freakish path onto a popular local variety show hosted by Murray Franklin, effortlessly played by Robert DeNiro. Once Arthur murders him on live TV, all bets are off.
Along with Arthur's once noble spirit evaporating. And there but for the grace of God.
OK, if you really do need popcorn at the movies, you might try Jennifer Lopez in Hustlers or Will Smith in Gemini Man. Both are solidly entertaining movies and you won't need an oxygen mask after fifteen minutes. 
Hey, who's got my soda and the salt? Ciao, y'all.
Above: Joaquin Phoenix in Joker