A British filmmaker focuses his lens on Beaufort's most famous native son.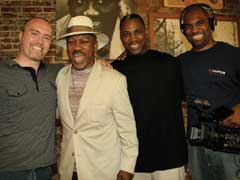 The Beaufort Three Century Project's final event is a special preview of British filmmaker Mike Todd's documentary
Joe Frazier: When the Smoke Clears
on December 11. The boxing legend and Beaufort native held the heavyweight title from 1970 – 1973, defeating Muhammad Ali in the "Fight of the Century" in 1971. After retiring, he opened Joe Frazier's Gym in a tough urban neighborhood in his adopted city of Philadelphia.  Frazier was awarded the state's highest civilian honor, the Order of the Palmetto, in September and still visits family in Laurel Bay. Todd hopes to time the official premier of the film with the 40
th
anniversary of "The Fight of the Century" next March.
Mark Shaffer: What's the story behind the genesis of this project?
Mike Todd: I've always been fascinated with the era of boxing Joe was involved with, but we actually started out to make a film about a boxing gym. It was only during the research process that we got to thinking – why not make it about one of the most famous gyms in the world? However, once we did begin to focus on Joe's gym, the story naturally became about Joe as well.
MS: What sort of special challenges did it present to you as a filmmaker?
MT: We filmed over a long period – probably close to a year and a half. In fact, the whole project has been close to 3 years in total. It's been a test of stamina more than anything.
MS: How much were the Fraziers – Joe and his son, Marvis – involved throughout?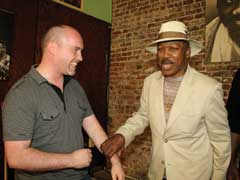 MT: Well, I met with Joe first, upstairs in his gym at Philadelphia. Coming from England, it all seemed a bit surreal initially. There are probably only a handful of people in the world who have achieved such an iconic status. Few sportsmen can really and truly say that they were part of history. Once Joe and Marvis understood where we coming from and our focus more on the human side of Joe's life and work, we developed a great relationship. Marvis was also fantastic – giving us a lot of time and obviously agreeing to do the voice over. But never once did Joe or Marvis, or Les, Joe's manager, try and influence the film or apply any sort of pressure as to what should or shouldn't be in.
MS: Did you come to this as a boxing fan, a Smokin' Joe fan or was it new to you?
MT: I've always been a boxing fan and as mentioned earlier, the era of
Frazier, Ali, Foreman etc. has always fascinated me. It was just before my time but it was an era of boxing as a true international spectacle. Bouts like the Thriller in Manila still resonate in the countries they took place in today.
MS: What was your experience in the Lowcountry like?
MT: I loved it. I'd never been before but it was something we felt we had to do. Sports docs that have featured Joe before often talk of his South Carolina roots but never really feature the voices of where he comes from. It was clear to me, spending time with Joe, that while he's happy in Philadelphia as his adopted city. Beaufort will always be his home and is the place that really shaped who he was to become.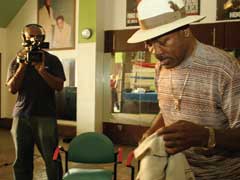 MS: We know Richard Brooks (credited in the film as "The Beaufort Fixer"). How instrumental was he and other locals to the project.
MT: Richard was fantastic. I came across his name when doing some research and asked him if he'd like to work with us on the film. Luckily for us he agreed. I don't think the Beaufort material would be half what it is without his input. Not only did he help finding great locations etc. but without him I don't think we would have managed to track down many of the people we wanted to speak to – and some of those featured are direct suggestions of Richard's. He also took us to one or two decent watering holes. But everyone who we spoke with in Beaufort was incredibly helpful and I believe we got some fascinating and revealing material about Joe and his life. I think the sad passing of Joe's sister and his best friend Abe Brown makes their involvement particularly poignant.
MS: What stage are you in with the film at the moment?
MT: The film is basically finished but the screenings in Beaufort are definitely 'previews'. There may be some minor amends but nothing of substance. The full premier is due to be early next year. We're in discussions with some of the major festivals at the moment but we're hoping to link it's full launch with the 40th anniversary of the Fight of the Century next March. Broadcasts will follow later in the year. We should hopefully know for sure where that will be for the US in the next few months.
MS: One of the screenings will be in Joe's old neighborhood, the other at USCB. The film deals pretty frankly with some old wounds that still haven't healed. How do you think it's going to play in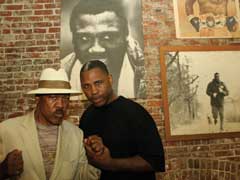 Beaufort?
MT: I just hope people like the documentary. I think when someone like Joe is from the same place as you, their story can be very personal and I just hope we've done it justice. In terms of the Beaufort filming, Joe's sister was incredibly kind and helpful while we were in town. It's sad that we won't be able to see her on our return but I hope that some of the love she so clearly had for Joe comes across in our film. But we're very much looking forward to our visit.
Get more at www.riverhorsetv.com
The Screenings
1:00 p.m. Whale Branch Early College High School
Tickets:  $5 adults; $3 students
6:30 p.m. University of South Carolina Beaufort Center for the Arts
Tickets:  $15 adults; $5 students
8:30 p.m. After-Preview Party with the Director & Producer, The Firehouse
706 Craven Street, Beaufort
Fund-Raiser for B3C. Advance Tickets Required:  $40
For Information—call 843-489-1711; email djohnson@islc.net
Read Mark Shaffer's interview with B3C director Deborah Johnson