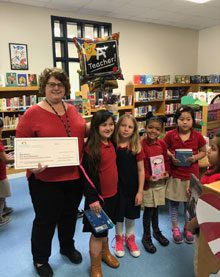 Faculty members from 12 different schools across Beaufort County were surprised last week with balloons and oversized checks given by board members, donors and volunteers from the Foundation for Educational Excellence. Surrounded by their enthusiastic students, these teachers were the recipients of the Foundation's Innovative Teacher Grants for Spring 2018.
The 17 grants awarded ranged from $145 to $4,000 and totaled more than $22,000. These grants will impact students district-wide in classes ranging from early childhood centers through high school. Some of the projects funded this year include seed plant terrariums, document cameras for Pre-K students, air foils for an 8th grade class studying aerodynamics and world drumming equipment.
This grant cycle was partially funded by generous contributions from the Friends of Callawassie Island, the Rotary Club of Okatie and the Foundation's major fundraiser, "Jewels and Jeans." The event is held each spring and offers an opportunity for attendees to "Fund-a-Grant" by pledging money towards partial funding of the Foundation's grants.
One project that received grant money is "Fly High with Student Created Airfoils" submitted by River Ridge Academy teacher, Eric Mohrman. His eighth grade students will benefit from the generosity of a particular donor, Bob and Rebecca Morris, through the Morris' contribution to the Foundation's "Fund-a-Grant" program. Bob Morris, pilot and retired Marine, has a passion for aeronautics, and the Morris' are great supporters of education and faithful supporters of the Foundation since it began in 2007. Bob Morris had the opportunity to accompany the Foundation board member, Jackie Rosswurm, as they surprised Mohrman and his students with the check to fund the project.
Another project that will be funded through these grants is "Revolution in the Lowcountry" at Whale Branch Middle School. This is the second grant received for this worthwhile hands-on look at history right in our backyard. WBMS was built on the site of a working colonial/Civil War rice, indigo and cotton plantation, Roupelmond Plantation. With grant funds from the Foundation last year, teachers Eugene Brugger and Pamela Storey were able to form an active Archaeology Club. They trained students in the use of metal detectors, pinpointers and other artifact detection equipment. Applying these skills, students have discovered many artifacts on school property that are now displayed in a showcase located in the school office.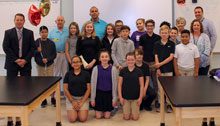 This spring's grant monies will help expand the club's research by focusing on the exact locations of structures which existed when Roupelmond was a thriving plantation. The club has completed research through the SC Chicora Foundation, and have located maps which identify the exact locations of the main plantation house, the slave quarters, and various other structures (including the only documented private privy located near slave quarters).
"We want to make the people who lived right here in our community real to our students," explained Storey, "and create living heritage for them. This grant will enable the continuation of the great work that we have accomplished through last year's grant."
Storey feels that through this continued project, the history of Roupelmond Plantation, and all of those who lived and worked there, will come alive to the students. It is important to note that there are children in the school now who are descendants of the slaves and owners of Roupelmond, and still carry the names of their ancestors. She feels that this project will help develop community pride and establish a direct connection between the children of today, and those that worked the land before them.
"We look forward to seeing the positive impact these grants have on the students and teachers involved in these projects," said Deborah Colella, the Foundation's chair. "We are so appreciative to our generous supporters who understand the importance of opening up these innovative learning opportunities to our students through these grants."
The grant recipients for Spring 2018 are listed below:

| | | |
| --- | --- | --- |
| Grant Title | School | Submitted by |
| Revolution in the Lowcountry | Whale Branch Middle School | Eugene Brugger, Pamela Storey |
| Plickers in PE | Hilton Head IB Elementary | Lindsey Davis |
| Teaching Math Concepts Thru Science Labs | Hilton Head Island High School | Robert Stine |
| Lights, Legos, Life | Hilton Head Island Elementary School for the Creative Arts | Jennifer Friend-Kerr, Daniel Holman, Heather Roberts |
| I, Too, Sing America | Whale Branch Early College High School | Amy Bassett |
| What Do Plants Need to Live and Grow? | Joseph S. Shanklin Elementary School | Melissale Rivera |
| Coffee and Learning | Whale Branch Middle School | Kaitlyn Ricciuti |
| Classroom Tower Garden | Port Royal Elementary | Sarah Reed, Valerie Eastabrook |
| Taken It Back To Our Roots | St. Helena Elementary School | Jennifer Fisher, Willie Turral |
| Auxiliary Control System | Hilton Head Island High School | John Quindlen |
| Instructional Hall Mural | Hilton Head Island Elementary School for the Creative Arts | Amy Velder, Logan Cunningham, Jayme Wilson, Alex Powers, Elizabeth Spinney, Michelle Howard, Lymari Rodriquez and Christina Schaber |
| Zap! Pow! Bang! Building Super Readers | Port Royal Elementary | Kim Waters |
| Character Building with Picture Books | Hilton Head IB Elementary | Lena Beason |
| Fly High with Student Created Airfoils | River Ridge Academy | Eric Mohrman |
| Seed Plant Terrariums | Lady's Island Elementary School | Cynthia Rodgers |
| So You Think You Can Dance Fundraiser | Whale Branch Elementary School | Danielle Kyren White |
| Document Cameras for Pre-K | Hilton Head Island Early Childhood Center | Ashley Disher |
|   |   |   |
ABOUT FOUNDATION FOR EDUCATIONAL EXCELLENCE
Established in 2008 to support the mission and goals of the Beaufort County School District, the Foundation supports student instructional activities and projects through Innovative Teacher Grants, Innovative School Resource Grants and Student Enrichment Grants. Grants are as diverse as purchasing supplies for building a robot or establishing an eco-habitat for native species. What all grants have in common is that they spark inquisitive minds. Twice a year, applications are submitted to the Foundation. Projects are chosen on their merit by a committee of the Foundation. Since 2009, the Foundation has awarded over $200,000 in grants to the teachers, schools, and students in the public school system. The Foundation is a 501(c)3 and a fund of the Community Foundation of the Lowcountry.