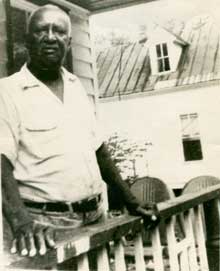 The Gullah Cultural Alliance, which sponsors the annual Gullah Festival and other historical and cultural projects, will hold an Inaugural Gala Celebration Monday, January 21 at 6:30 p.m. at the Holiday Inn, Beaufort.
The black-tie event coincides with Martin Luther King, Jr. Day and with President Barack Obama's inauguration ceremonies. In addition to wide-screen viewing of celebrations in Washington, D.C., there will be heavy hors d' oeuvres, live entertainment by members of the Savannah Jazz Hall of Fame, Anita Prather, Scott Gibbs and other performers. Organizers will also present awards for community leadership to deserving citizens.
Ticket prices range from $55 to $65 per person. Tables of ten are available at a discounted group rate. The money raised from ticket sales will support the alliance's educational and cultural preservation projects, the Disabled Veterans, Chapter 12, and the Beaufort Alliance of Mental Illness.
Alliance President Charlotte Pazant Brown, daughter of the group's founder, the late Rosalie Frazier Pazant, said new projects are in the works. "We have some exciting plans for 2013. They include a new black inventor's museum which we will reveal more about later in the year. My mother acquired several artifacts that compose a valuable collection and we are thrilled to have the opportunity to share them with the world – especially with our children. The museum will give us the opportunity to disclose more about the contributions of African Americans to society as a whole."
Brown said the alliance recently reviewed its by-laws with the intention of strengthening its mission. "We must lead by example. We are about education and furthering leadership in our community. However, the Gullah Festival grew so quickly that it took on a life of its own. We had no choice but to continue it because of the huge international demand from people who wanted to come to this lovely part of the world to find out more about their history and culture.
"We want to continue the festival, but we also want to redirect our focus on our priorities of public education regarding Gullah culture and history and encouraging community leadership," Brown said.
Tickets for the gala may be purchased by contacting the Beaufort County Black Chamber of Commerce at (843) 986-1102 or www.bcbcc.org , The Beaufort Visitor's Center, Andy's Secrets, or the Gullah Festival organization at (843) 525-0628 or www.gullahfestival.net.
The Brandyfoot Award
Musician William Bradford Frazier was known by friends and family as "Brandyfoot." The nickname derived from Frazier's middle name and reflected his smooth bass vocals and polished performance style.
Frazier was born in 1895 on Hilton Head Island. He was the father of Rosalie Pazant, founder of the Gullah Festival, which attracts visitors to Beaufort, S.C. from all over the world each year. He was a performer and music teacher revered for his pride in showmanship and for his example of artistic excellence. Students and fellow musicians alike were inspired to do their best because of the high standards Frazier set for himself.
He was also generous with his time and talent by offering music lessons and instruments to children and adults who could not afford them. He taught music at South Carolina State College and led the well-known Allen Brass Band. In addition to his skills as a singer, he played several instruments including piano, bassoon, clarinet, tuba and drums.
Granddaughter Charlotte Pazant Brown said Frazier was a vibrant entertainer. "He always performed with what people called a 'dandy' flair. He was in the Cherry Blossom Parade in Washington, D.C. in the early 1930's with his band when John Phillip Souza watched him perform."
"Grandfather's band performed an original Souza piece called "The Washington Post" and Souza paid Grandfather a special compliment by saying it was the best he'd ever heard the song played by an all-black band."
Brown is President of The Gullah Cultural Alliance which has named an award for community leadership after Frazier. The group will present The Brandyfoot Award at an Inaugural Gala Celebration on Monday, January 21, 2013 at Beaufort's Holiday Inn.
For more information or reservations, contact the Beaufort County Black Chamber of Commerce, at (843) 986-1102 or www.bcbcc.org the Beaufort Visitor's Center, "Andy's Secrets" or the Gullah Festival organization at (843) 525-0628 or www.gullahfestival.net.