This year's Valentine Ball will recreate the Roaring Twenties.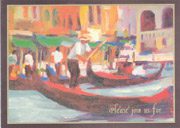 Over 100 local volunteers are hard at work preparing for Beaufort Memorial Hospital Foundation's 20th Annual Valentine Ball, scheduled for February 7th, 2009. In honor of this very special birthday – which happens to coincide with the hospital's 65th anniversary – the organizers are creating a spectacular "Roaring Twenties" gala, beneath an enormous, heated tent along the waterfront in Kate Gleason Park.
Katherine Lang, co-chair of the Decorations Committee, hints at the fabulous setting ball-goers can anticipate: "Imagine a great party of the 1920's, before the bottom fell out the last time. Prohibition was the law of the land, but not the custom. Art Deco splendor and the Charleston… ladies in boas… silent movies projected in a private viewing room… who knows what gangsters delivering the bathtub gin…"
The prelude to all that glamour, of course, are the ever-popular private dinner parties. Jackie Adams of the dinner party committee says, "Every year we are overwhelmed by the generosity of those in the Beaufort community who open their homes to old friends and new acquaintances. Hosts are exceedingly gracious and use this event as an excuse to polish their silver, press their fine linen and let the southern hospitality shine."
Brenda Molony, Valentine Ball Coordinator, says it's important for
guests to RSVP by the January 16th deadline to ensure seating at a dinner party.
Once at the ball, party-goers will enjoy delicious desserts, dance to the Jazz Age stylings of the Swingtime Orchestra, and have an opportunity to bid on an enticing array silent auction items.
"We've gathered so many fantastic offerings this year," says auction committee chair Kelly Gray. "We've got chartered shopping flights, art by Lana Hefner, Porsche test drives, beautiful dinners, Carolina Panther's football tickets, a trip to Ireland, one to Manhattan… that's just off the top of my head. There are smaller items listed on eBay, too."
The reason for all this merry-making and fundraising is the BMH Foundation, which exists to generate income for Beaufort Memorial Hospital, a not-for-profit institution that does so much good for our community. The proceeds from this year's ball will benefit BMH Women's Services.
"It is very important for BMH to have our continual support," says Bari Nunamaker, one of this years co-chairs, along with her husband, Dr. Lonny Nunamaker, and Mr. and Mrs. Malcolm Goodridge.
"Our Lowcountry community is proud of the excellence in quality care offered by the medical personnel and hospital staff," she continues.
And the community invariably displays that pride at the Valentine Ball – from the 100-plus volunteers to the 500-plus guests who typically attend. Come help celebrate the 20th anniversary of this important and beloved Beaufort tradition. For more information, contact Brenda Molony at the hospital foundation, 522-5774.