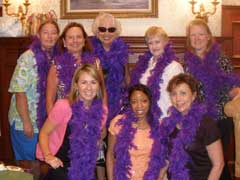 Make a date with your BFF to attend the Spirit of Women Girls' Night Out, a gal pal party complete with wine, hors d'oeuvres, music, mini-spa services, and even a chick flick. The only things missing are the pajamas and pillows.
But it's not just fun and games. With a theme of "indulge in your best health now," participants also will have the opportunity to learn ways they can stay healthy from eating more nutritious foods to sleeping more soundly.
"Women make 85 percent of the medical decisions in their households," said Karen Carroll, chief nursing office and vice president of patient care services at Beaufort Memorial Hospital. "This event is designed to provide them with information to help them make informed choices for themselves and their families."
The Girls' Night Out, a free event hosted by Beaufort Memorial, will take place from 5:30 to 10 p.m. Thursday, Oct. 21 at the Performing Arts Center in Beaufort. It's one of several programs being initiated by the hospital to enhance women's services.
Earlier this year, BMH joined the national Spirit of Women network, an elite coalition of American hospitals and healthcare providers committed to women's health education and community outreach.
The Girls' Night Out event is one of Spirit of Women's signature programs. Presented during National Breast Cancer Awareness Month, it will highlight breast care, as well as sleep and nutrition. In February, American Heart Month, the hospital will host a Day of Dance, focusing on heart-healthy activities like dancing.
"We conducted a series of focus groups with women of all ages to determine their biggest health concerns," said Carroll. "Topping the list were breast health and cardiovascular health."
Unlike a health fair, the Girls' Night Out event will be more party than lecture and will feature music, wine, food and prizes along with entertaining, hands-on displays and demos. Planned activities include bra fittings, skin and makeup consultations, expert nutrition advice and a "sleep center" where experts will offer tips on getting your Z's. At 7:45 p.m., participants will be invited to the main theater for a special screening of "Sweet Home Alabama".
"We call it 'health-u-tainment' because the event combines all of the things you love about a girls' night out—a little indulgence with great food, wine, friendship, music—combined with lots of healthy things like your best night's sleep and your best food choices to your best breast health," said Courtney McDermott, who is helping coordinate the Spirit of Women programs for BMH.
Besides healthy eating and sleeping tips, participants can make appointments for mammography screenings and speak with Beaufort Memorial Breast Care Coordinator Ronda O'Connell. And they'll learn more about what to look for when doing a breast self exam by feeling a model of a healthy breast and one with a simulated lump.
"Women today are so busy juggling work and family," McDermott said. "We're trying to make it easier for them to get the information and advice they need to improve their health and at the same time indulge in a little fun."
The event is free but RSVPs are necessary. To register for the event or to become a member of Beaufort Memorial's Spirit of Women, visit www.bmhsc.org/spiritofwomen or call 843.522.5952. Membership is free and includes invitations to all Spirit of Women events.