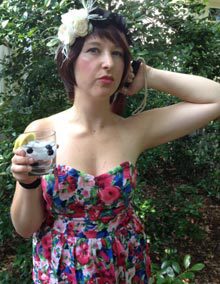 Come have a killer time for canines . . .
A heartbroken lifeguard and a steroid-shooting surf pro. A couple of sexy gold diggers willing to fight for the bijillionaire they both, um . . . love. A lottery winner looking to try the part of International Playboy on for size. A local girl with a heart of gold . . . and a thirst for revenge. Big screen superstar Loni Luhan, who's SUPPOSED to be in rehab, but just can't pass up the party.
These are just a few of the Beautiful People soaking up the nightlife at Margaritaland, exclusive resort and playground for the wealthy, the wannabes, and a staff with more secrets than there are grains of sand on the beach.
Known in some circles as Cat Island Grill and Pub (8 Waveland Avenue in Beaufort), Margaritaland will also be the site of a cold-blooded murder June 28, and you're invited to hunt down the killer – or just have a killer time.
Your ticket to "Murder in Margaritaland" gets you into this exclusive nest of ne'er-do-wells where you'll enjoy a lovely luau-style buffet. A cash bar will be available. Proceeds will go to Chain Free Beaufort, a not-for-profit organization dedicated to educating dog owners and rescuing permanently chained, tethered, and penned dogs. For more information on the organization and its work, visit www.chainfreebeaufort.org.
Cocktails are at 7 p.m. and dinner's at 8 p.m. In addition to crime-solving, you can get a Margaritaland tattoo, play cornhole, win or buy chances for great prizes, and show off your limbo skills. Expect plenty of surprises. Interrogate the suspects – many can be plied with a cocktail or a donation for doggies – or just relax, feast your private eye on the craziness, then Sherlock it. You may win a prize if you discover who did the dastardly deed. But even if you're no Nancy Drew or Scooby Doo, you'll have an unforgettable, fun evening and help ensure a happier life for Beaufort's furry friends.
Admission is $30.00 per person, $55.00 per couple, and $135 for groups of 6. (That's like getting a free ticket, if your sleuthing skills don't include math.) Dress like a beach bunny, tropical tycoon, resort rat, grungy gumshoe, or otherwise sport something stylin', and you could win a prize.
Order your tickets online at www.eventbrite.com and enter Margaritaland in the Search bar.
Above: Brittney Marie Hiller, a.k.a. Maureen "Mo" Mooney, long-suffering manager of pro surfer Sandy Board-Schwartz, contemplates clobbering her competition. Photo by Andrew Hiller