Free BMH event promotes heart health and general wellness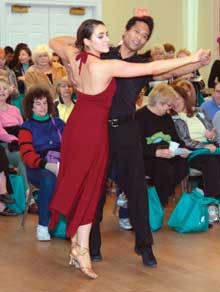 Make your feet—and your heart—happy. Boogie, hustle or cha cha on over to Beaufort Memorial Hospital's Dance for Your Health, a community wellness event designed to get you dancing to good health.
Held in celebration of American Heart Month, the event is free and open to the public and takes place from 9 a.m. to noon, Saturday, Feb. 23, at Sun City's Pinckney Hall. There will be dance demonstrations, health screenings, light refreshments, door prizes and dance lessons in salsa, cha cha, shag and dancercise.
"It's cardio exercise that's fun to do," said Hollie Smith, an exercise physiologist at Beaufort Memorial's LifeFit Wellness Center. "Even if you don't follow the steps exactly, you're still moving and getting your heart rate up."
Along with the dance classes and demos, BMH clinical specialists will be offering free blood pressure and glucose screenings. Cholesterol tests also will be available for $10 (cash and checks only). Be sure to fast if you want to be tested for glucose and cholesterol.
Cardiologists Drs. Stuart Smalheiser and David Harshman, orthopedists Drs. Kevin Jones and James Amlicke and vascular surgeon Dr. Chad Tober will be on hand to answer questions and offer tips on how to reduce risk factors through lifestyle choices.
"Anytime you move, you're engaging your cardiovascular system and putting into motion a process that is both physically and mentally beneficial," Harshman said. "Dancing is a perfect cardiovascular exercise because it doesn't feel like exercise, so people are more likely to stick with it over time."
Instructors from the Fred Astaire Dance Studio in Bluffton will be teaching participants a variety of styles of dance in 20-minute sessions throughout the morning.
"Ninety percent of our students dance for exercise," said Fred Astaire Studio co-owner and dance instructor Sandro Virag. "Dancing has so much to offer. Just listening to the music makes you feel happy."
In addition to the mini classes, dance groups will be performing every half-hour on the main stage. Attendees also will have the chance to participate in a hula hoop contest.
Health education stations set up throughout the hall will offer information on how to improve your diet, the treatment of varicose veins and other women's health issues. Guests who visit all of the stations will be eligible for door prizes.
Those who visit the cardiology station will have the opportunity to win a free EKG test. The screening will be performed during the event in the LifeFit Mobile Wellness Unit, which will be parked on site.
As a special treat, Beaufort Memorial surgeons Drs. Stephen Sisco and Deanna Mansker will introduce the da Vinci Si robot, an advanced computer-controlled surgical system used to perform minimally invasive laparoscopic procedures, including single-site surgeries. After a short demonstration, the physicians will invite attendees to try it out for themselves.
Dance for Your Health is open to both adult men and women. The event is free, but registration is required to participate. To sign up, visit www.bmhsc.org or call (843) 522-5585.