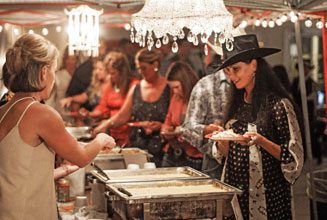 The 7th Annual Boots & Bling Fundraiser and Silent Auction presented by CBC National Bank will be Saturday, Oct. 22, 2016 from 6 pm – 10:30 pm at Tabby Place in downtown Beaufort. It's a western-themed gala with a Lowcountry twist, the perfect opportunity to match jeans and boots with pearls and your best sparkly bling! Tickets to Boots & Bling are $50 per person or $90 per couple and can be purchased at the YMCA in Port Royal (1801 Richmond Avenue) or online: ymcabeaufortcounty.com.
The night includes delicious food, beverages, a silent auction, music, golf cart raffle and new this year, a special live auction featuring lowcountry-inspired, one-of-a-kind chandeliers, just right for a screened porch, fish camp or lake cabin. Our emcee and auctioneer for the evening is the incomparable Jeff Althoff, who encourages everyone to bid high and bid often!
All funds raised at Boots & Bling, including event sponsorships, auction and ticket sales,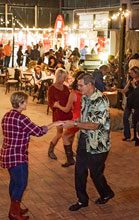 and the golf cart raffle benefit the annual Y capital campaign. Local businesses supporting Boots & Bling through sponsorship this year include CBC National Bank, Schiller & Hamilton Law Firm, Publix Supermarkets, Coldwell Bank Platinum Partners- Missy Massalon, Lowcountry Insurance Services, Inc., Merrill Lynch Beaufort, Carolina Air and many more who are acknowledged on the YMCA website: ymcabeaufortcounty.com
"We are blessed to be a busy YMCA with over 5,000 active members", said Michael Bostwick, YMCA CEO. "The demand on our programs and facility continues to grow, and we are committed to improving our facility for the benefit of members and the community. All funds we raise at Boots & Bling will assist us in these improvements, including an anticipated expansion of our facility in Port Royal."
Upon arrival at Boots & Bling, guests will enjoy a cocktail hour on the terrace of Tabby Place where they can purchase golf cart raffle tickets and socialize with other Y supporters while nibbling appetizers prepared by local eateries.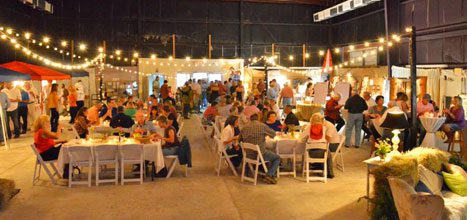 Once the main doors open at 7:15 pm, guests can browse items in the silent and live auction. This year's silent auction includes accommodations at several 4-star Caribbean resorts, a stand up paddle board, Walt Disney World tickets, decorative patio heater, original works of art, rounds of golf, restaurant gift certificates and much more! Many of the silent auction items can be previewed on the YMCA website: ymcabeaufortcounty.com and on Pinterest: pinterest.com/ymcabeaufortsc.
There will be a hearty, comfort-food inspired buffet and dessert available for Boots & Bling guests too, perfectly suited to carb up for a night of dancing to a variety of music spun by local d.j. John Fletcher AND active bidding at the silent auction tables!
Food has been lovingly prepared and donated by the following local restaurants, bakers and caterers: Beaufort Bread Company, Brenna Chiavello, Cookies by Charlotte, Dockside Restaurant, Emily's Restaurant, Fat Patties, Palmetto Vending, Plums/Saltus, Q on Bay, The Kitchen, Carolina Tavern, 10 Market: A Chef's Kitchen, Brick's and Boundary Street Café. Wine and beer are included with the price of admission, but there will be a cash bar for mixed drinks.
The popular golf cart raffle is back! Tickets went on sale September 6 at the YMCA in Port
Royal and can be purchased up until and at the event, with a maximum of 400 tickets to be sold. Purchase soon and don't be left out of the running! Raffle tickets are $25 each or 5 of $100 with the winning ticket drawn at Boots & Bling on Oct. 22, however you do NOT need to be present to win. This year's golf cart is a Yamaha JN8-100924 with new flip back seat, headlights, tail lights, windshield, mirror and new Trojan batteries.
About the YMCA of Beaufort County: The YMCA of Beaufort County is part of a 171-year old worldwide organization that enables the citizens of Beaufort County to develop values and behaviors that are consistent with our mission: To put Christian principles into practice through programs that build healthy spirit, mind and body for all. The Wardle Family YMCA of Beaufort County was charted in 1990 and opened its doors in June 1996: 2016 marks our 20th anniversary!
The YMCA is a locally autonomous organization made up of voluntary membership that is open to individuals of all ages, race, religion, incomes and abilities. Programs and services incorporate the values of caring, honesty, respect and responsibility and the YMCA encourages and challenges its staff, members, volunteers and program participants to accept and demonstrate these values. The YMCA of Beaufort County currently serves approximately 8,000 individuals through the programs and services provided. ymcabeaufortcounty.com